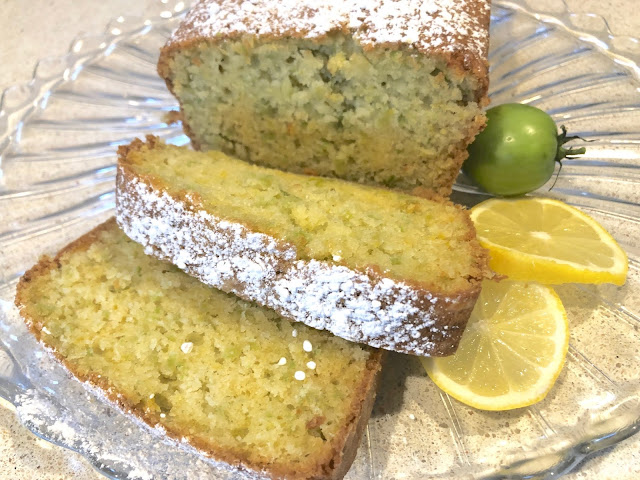 Chopped green tomatoes and lemons pair nicely in this quick bread. (Photos: Kathy Morrison)
Recipe: Those greenies make a nice substitute for zucchini
Green tomatoes are a tomato grower's challenge. If you don't like them fried, what else do you do with those greenies that will never, ever ripen? Beyond just tossing them in the compost, that is.
I've made green tomato chutney, which is lovely but a time commitment. Last year, I tried
roasted green tomato sauce
. Good, but not top of my list. This year's inspiration came from Christine S., a fellow member of the Sacramento Gardening Group on Facebook. She commented under another member's late-tomato harvest post that green tomatoes could be used in a lemon-zucchini bread as a substitute for the shredded zucchini. What a cool idea! So I had to try it.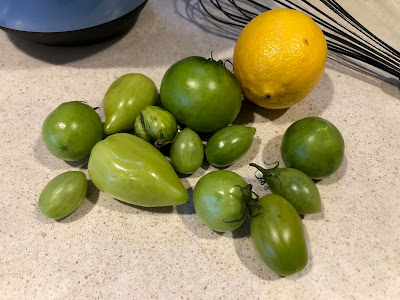 I used a mix of really green tomatoes; this dozen produced a generous cup of
I modified this a bit and would do a few other things next time I bake it. For one, I cut the recipe in half, since it made two loaves, and no one with a refrigerator full of Thanksgiving leftovers needs two loaves, unless you plan to give both away. If you double the recipe as written below, use 3 eggs, not 4, and 1 tablespoon lemon juice.
Also, I didn't put the glaze on top, since we don't like very sweet baked goods in our house. In fact, I would increase the amount of lemon zest in the bread, or maybe use some lime zest along with the lemon -- the lemon flavor was there but not pronounced. (Eureka lemons are tarter than Meyer, of course -- save the mellow Meyers for another recipe.) This bread recipe also would easily take to mix-ins: dried cranberries or some candied ginger bits are my first two ideas. It also would make excellent muffins, I think.
One other note: I chopped my green tomatoes in my food processor, since they were hard, and would be difficult to shred. A good sharp knife also would work.
Lemon and green-tomato bread
Makes 1 loaf
Adapted from a
Two Peas & Their Pod
recipe
Ingredients:
1-1/2 cups all-purpose flour
1/2 teaspoon salt
1/2 teaspoon baking powder
1/2 teaspoon baking soda
1 cup granulated cane sugar
Zest from 1 large lemon (add more if you really like lemon)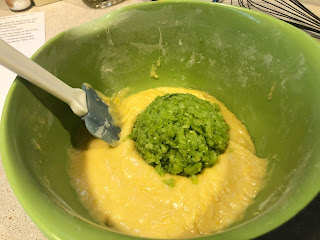 The chopped tomatoes are the last ingredient into the bowl.
2 large eggs
1/2 cup canola or other light vegetable oil (not extra-virgin olive oil)
2 teaspoons fresh lemon juice
3/4 teaspoon vanilla extract
1 cup green tomatoes, cored and finely chopped
Optional lemon glaze:
1 cup powdered sugar
1-1/2 tablespoons fresh lemon juice
Instructions:
Grease and flour an 8-by-4-inch bread pan. Preheat oven to 325 degrees.
In a medium bowl, whisk together the flour, salt, baking powder and baking soda. Set aside.
Mix together the sugar and the lemon zest, by hand or with a flexible spatula, in a small bowl until the sugar is fragrant.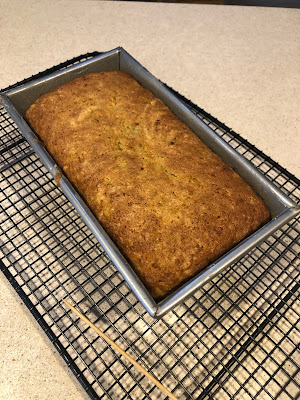 The bread baked beautifully at the low temperature.
In a large bowl, whisk together the eggs and sugar mixture, then the oil, lemon juice and vanilla. Stir in the dry ingredients until combined. The batter will be pretty thick. Fold in the chopped tomatoes, then pour the batter into the prepared pan.
Bake 1 hour or until a skewer inserted in the center of the loaf comes out clean. Let bread cool on a rack 15 minutes before removing it from the pan. (Run a knife around the edges first.) While bread is cooling, make the glaze, if using, and drizzle it over the bread. Or, sprinkle powdered sugar over the loaf. Slice and serve.