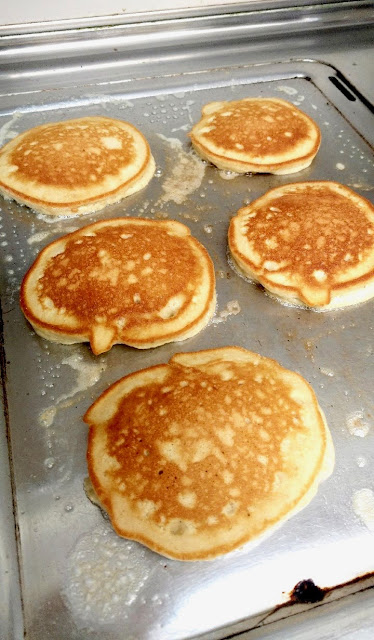 The pancakes smell great on the griddle.

Apples are keepers. Harvested in fall, they continue to stay firm (and ripe) while in cold storage for months.

With a large Granny Smith apple tree, I still have "fresh" home-grown apples in the fridge -- plus a lot of applesauce. As the fruit starts to soften, I cook it into sauce, giving me more options of how to use up my apples. (And I can freeze the sauce.)

Of course, applesauce is great as a side dish on its own, but it's also a versatile ingredient in baked goods. (I use it as a substitute for milk or sour cream in muffins and quick breads.)
And it makes delicious pancakes. They smell like apples on the griddle.
Applesauce pancakes
Makes about 8 (5-inch) pancakes
1 cup flour
1 tablespoon sugar
1 teaspoon baking powder
1/2 teaspoon soda
1/2 teaspoon salt
1 cup applesauce
1 egg or 1 egg substitute
2 tablespoons vegetable oil
Butter or margarine for griddle (about 1 tablespoon)
Preheat griddle. In a large bowl, sift together dry ingredients.

In another bowl or large mixing cup, mix together applesauce and egg or egg substitute until blended.
Gradually add applesauce mixture to dry ingredients. Mix in oil. Batter should be spoonable, not stiff. If needed, add 1/4 cup more applesauce.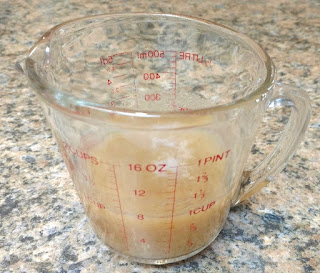 One cup of applesauce is need for the pancakes.
Butter hot griddle. Drop batter by large spoonfuls onto griddle. Cook until little bubbles start to appear in the surface (about 3-4 minutes). Turn pancakes and cook until done.

Serve warm with butter, margarine, syrup or powdered sugar.