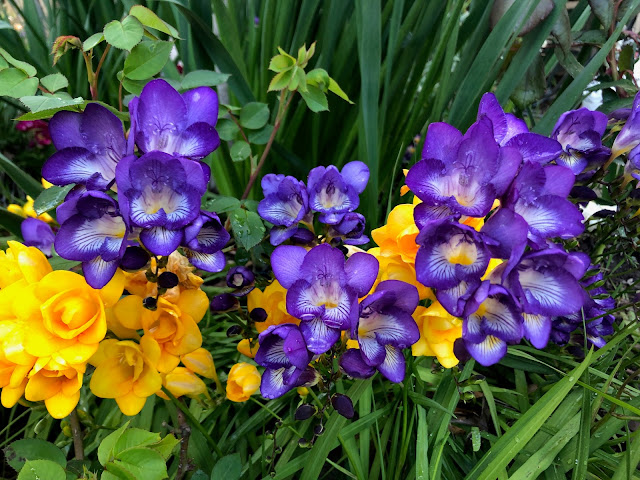 The natural world is still there -- get out and enjoy it. (Photo: Kathy Morrison)
Reasons why getting outdoors is good for you
At least you can still garden.
During the coronavirus crisis, people are re-evaluating what they can and cannot do. The list of "cannots" seems to be getting longer by the minute.
But gardening is a relatively solo activity. Plants are not coronavirus carriers. We can be safe while tending our flowers and vegetables.
Here are some reasons to keep gardening during the coronavirus closures:
1. Gardening relieves stress. The current atmosphere of crisis has been extremely stressful. Our immune systems are more vulnerable when we're stressed out. Less stress; we're automatically healthier.
2. Gardening is good exercise. Getting outdoors and doing something physical helps keep us healthier, too.
3. Our garden needs us. Its care is our responsibility. Go out and see how things are growing, especially during this ever-changing almost-spring weather. What's sprouting? What's about to bloom?
4. Gardening feels normal. We need some normalcy during such uncertain times. In gardening, we (almost) have a sense of control that's lacking in everything else right now.
5. Our garden can feed us. (Especially if we concentrate on growing edibles.) We may need those fresh vegetables, fruits and herbs.
6. Gardens lift our spirits. Bring some flowers indoors to enjoy. Share a bouquet with a friend. It will bring some much-needed joy.
7. Gardens help us focus on the future. Gardeners are always planning ahead – what to plant, when to harvest. By looking ahead, we help assure ourselves that there is a positive outcome, that life will get back to normal and we will have time and reason to smell the roses.
So, be healthy, stay safe and keep gardening! We'll be there to help.