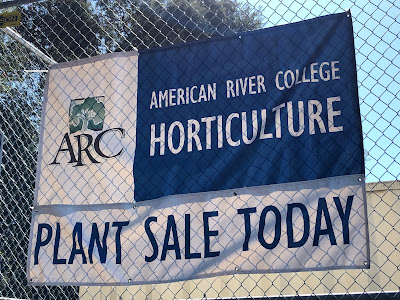 It's the next best thing to being there: a virtual plant sale is on for ARC. (Photo:
Buy some real seedlings or give a donation to the program
Like so many highly anticipated spring garden events, the American River College plant sale was canceled in light of the coronavirus pandemic. The spring sale, as well as one in the fall, supports the active Horticulture Department program.
But plant starts don't wait for anything, and the students have vegetables,  herbs and flowers available that would have been snapped up at the sale this month.
So the next best thing: A virtual, no-contact plant sale, with real plants. The catch is buyers have to go pick them up curbside in West Sacramento. Local curbside delivery is available, but only for qualifying orders. The
sale link is here
.
Supplies are limited, so don't tarry. Most of the succulents already are gone, but there looked to be a decent selection of tomatoes, peppers, greens and eggplant, along with some tomatillos and onions. Flowers include strawflower, cosmos and bachelor buttons. A full range of herbs also is for sale. Prices start at $2 -- best deal in town. (No perennials are included in the sale.)
If you're not in the market for veggies or flower starts, consider a donation to the ARC Horticulture program; that is also offered on the Virtual Plant Sale site. A $1 donation earns the title of Blue Eyed Grass Donor, while a $100 donation dubs you a Blue Oak Donor; there are other levels in between.
This is a great program, well worth supporting. After all, we all want the next generation to include professional plant propagators.
-- Kathy Morrison