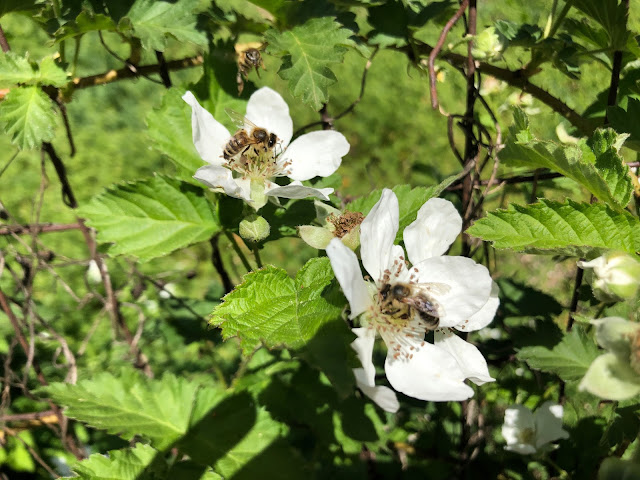 Whether it's from annual flowers, native perennials or fruiting bushes and trees, bees needs food throughout the year, so keep
them and other pollinators in mind when you choose plants for your garden. And avoid pesticides and herbicides, too. (Photo: Kathy Morrison)
Five quick tips to help nature, one garden at a time
Happy Earth Day!
We've had 50 years of practice on how to celebrate our connections to Mother Earth. But we can always do more. (Remember: Be kind to Mother!)
Here are five quick tips on how we can make a difference, one garden and one day at a time:
1. Stop spraying toxic chemicals.
Say goodbye to harmful pesticides and herbicides. Embrace integrated pest management and let nature help us control the bad bugs while nurturing the good guys.
2. Help the bees (and butterflies, too).
Be a friend to beneficial insects. Plant flowers that attract bees and butterflies. Try to have something in flower (and potentially a bee buffet) throughout the seasons. While some bees hibernate in winter, honeybees remain active year round.
3. Respect your soil; don't treat it like dirt.
Healthy soil is teeming with important life. Those multitudes of micro-organisms are crucial for a healthy garden. Feed your soil a steady diet of organic material and other nutrient-packed amendments, so your garden can feed you.
4. Make more compost.
This is going to be part of daily California life very soon – it's the law. We're all going to have to cut down on the amount of organic (carbon-based) waste that we put in the trash. Turn those peelings and coffee grounds into garden gold.
5. Rethink your waste.
Follow the familiar mantra, "Reduce, reuse, recycle." But take it to the next step with some thoughtful small changes. Got lots of cardboard boxes? That cardboard can be used for weed control under mulch. (As it breaks down, it provides more nutrients.) Newspapers can be turned into mulch, too, or shredded and composted. It's not "trash"; it's opportunity!