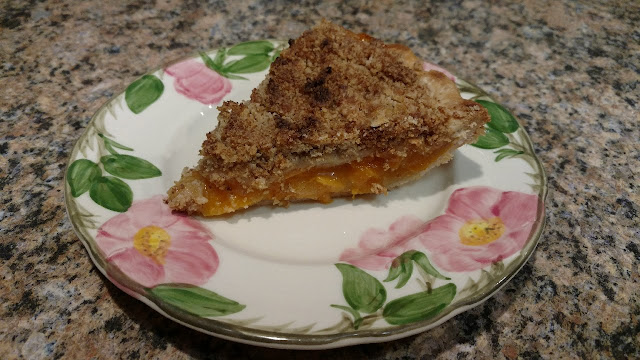 Apricot pie is a taste of summer. Bake the pie the night before and allow it to cool. When sliced, the pie holds together better. (Photos: Debbie Arrington)
Recipe: Crumb-topped pie works with apricots, nectarines or other stone fruit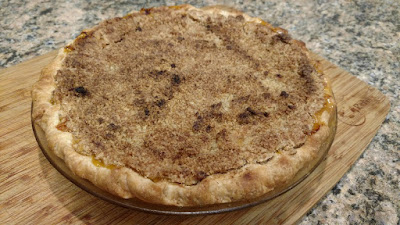 The streusel top contrasts with the summer fruit underneath.
Is it Dutch? Is it French?

It's neither; it's just delicious.

Apple pie with crumbly streusel topping is known as Dutch apple pie or French apple pie, although the origins of those recipes are purely American. The Dutch version often includes chopped walnuts in the crumb topping; the French sticks to brown sugar, flour and butter.

That same streusel method works wonders with tart summer fruit such as apricots or nectarines. (Peaches and cherries, too!) The sweet crumbles contrast beautifully with the flavorful fruit filling.

I've been making this recipe (adapted from several sources) for years. The brown sugar crumbs are my favorite way to top almost any fruit pie.
Note: This recipe can be used with other stone fruits. Peel nectarines or peaches, but apricots and cherries can leave their skins on.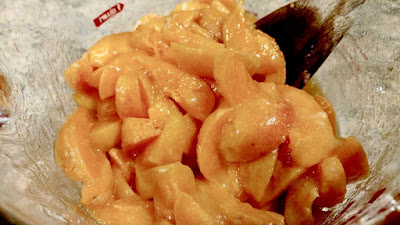 Gently stir the sliced fruit with lemon juice.

Apricot crumble pie
Makes 1 (9-inch) pie, 8 servings
Ingredients:
1 (single) pie crust for 9-inch pie

Filling:
5 cups apricots, pitted and sliced
2 tablespoons fresh lemon juice
1 cup sugar
1/4 cup flour
1/4 teaspoon cinnamon
Topping:
1 cup flour
1/2 cup brown sugar, packed
1/2 cup (1 stick) butter

Instructions:

Heat oven to 425 degrees F.  Prepare pastry in 9-inch pie plate. Set aside.

Gently stir together sliced apricots and lemon juice. Combine sugar, 1/4 cup flour and cinnamon; mix with apricots.

Make crumb topping: In a medium bowl, mix 1 cup flour and brown sugar. With a pastry blender or fork, cut in butter until crumbly.

Turn apricot filling into pastry-lined pie plate. Top with crumbles, covering fruit to the edges of the pastry.

Place pie in center of oven, on top of a rimmed baking sheet to catch any spill over. Bake in 425-degree oven for 50 minutes or until bubbly around the edges. Cover topping with aluminum foil the last 10 minutes to prevent over browning.

Serve warm with vanilla ice cream (optional).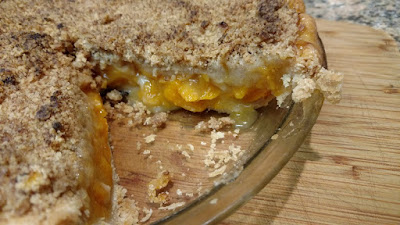 The crumbly sweet topping seals in the filling.