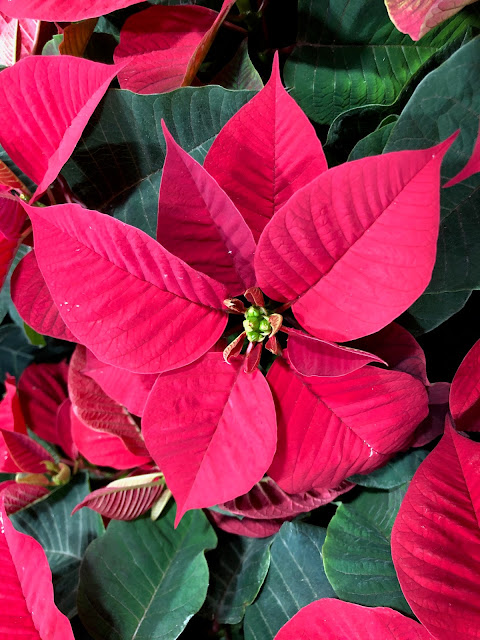 Red poinsettias are by far the most popular, but shoppers can find pink,
yellow, white and variegated ones as well. (Photo: Kathy Morrison)
A walk through local garden shops and supermarkets reminds us once again: It's poinsettia season!
Shades of red — from brightest crimson to deepest burgundy — continue to be the most popular poinsettia varieties. But this year, you'll also find a wide range of other hues — from pure white to butter yellow to vivid pink — as well as many variegated poinsettias.
If you want to keep that poinsettia looking its best, keep it indoors out of the cold, wind and rain. If poinsettias feel a chill, they drop their leaves.
Native to temperate coastal areas with winters in the 70s, poinsettias can be finicky. A member of the euphorbia family, they can't take too much cold or heat, preferring temperatures between 60 and 75 degrees.
Fortunately, most Sacramento poinsettias don't have to travel far to get to stores – and your home. Now part of the Green Acres Nursery & Supply family, Eisley Nusery in Auburn grows thousands of poinsettias each year for the Sacramento market.
To get the most out of your poinsettia and to keep it looking good into the new year, follow these tips:
* Purchase a poinsettia with dark green leaves all the way to the soil line; it still has all its foliage. That's a good sign of freshness; skip plants with yellowed or many missing leaves. Avoid any that look wilted, dried out or overly wet.
* Look at the actual flowers – the little nubs in the center of the bloom. The flowers should be green or red and look fresh. If already yellow and covered with pollen, those flowers mean the poinsettia's days are numbered.
* Take off the foil or paper wrapping; it traps too much water around the roots. Poinsettias need good drainage and don't like standing in water. Put a saucer under the pot and, after watering, drain any excess.
* Treat poinsettias like Goldilocks; they want it just right. Exposure to temperatures below 50 degrees, even for a few minutes, can cause leaf drop. Consider that before creating outdoor displays; they'll last one night.
* Inside, find a spot with indirect light for six hours a day, away from drafts or forced heat. Poinsettias like days in the 60s; slightly cooler (55 degrees) and dark at night.
* Poinsettias prefer soil on the dry side, but don't let it completely dry out. Feel the soil daily and water when needed.
* After bloom, poinsettias can be fed a balanced liquid fertilizer to prompt new growth. If kept comfortable, they may rebloom next year.