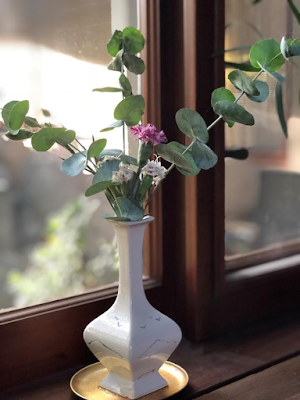 Simplicity is a key to Japanese flower arranging.
(Photo courtesy UC Davis Arboretum)



UC Davis Arboretum co-sponsors free Zoom class
With all the hurried days this time of year, it's nice to have a chance to relax, even for just an hour, and learn a new, quiet skill.
At 12;10 p.m. Friday, Dec. 18, The UC Davis Arboretum and Public Garden is offering just such an opportunity.
A free class in Japanese flower arranging will be taught by UC Davis Professor Emeritus Haruko Sakakibara via Zoom. It's offered via the Nature Rx program at UC Davis.
Students will create a small table arrangement from supplies easily found around the house. Even a mayonnaise jar, for example, can work ad a vase. Pebbles or marbles go in the bottom.
Smaller flowers cut from the garden or purchased at a store (such as a supermarket or Trader Joe's) add the color. Greens from shrubs such as nandina or camellias fill out the arrangement.
Register here:
https://ucdavis.zoom.us/meeting/register/tJwqcuqspjMsEtTHb6p73o1IYJZHjKzc9kRV
Learn more about the supplies needed:
https://bit.ly/NatureRx-121820
The class also is sponsored by Each Aggie Matters, Healthy UC Davis, and UC Davis Staff and Faculty Health and Well-being.
— Kathy Morrison