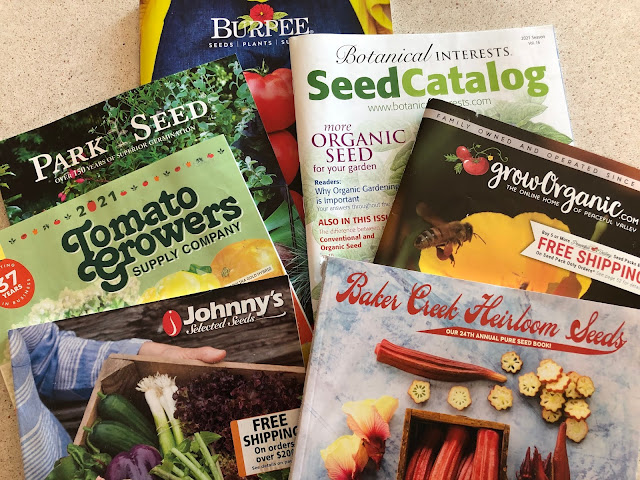 With so much wet weather ahead, we'll have plenty of time to read the seed catalogs that have been piling up. (Photo: Kathy Morrison)
Wet and chilly days follow record heat
After a record hot (and dry) streak, keep your umbrella and rain gear handy.
According to the National Weather Service, Friday's rain started a series of damp days with possible precipitation in the forecast for the next week – and maybe more. Temperatures drop drastically, too, with daytime highs 20 degrees lower than last week and overnight lows dipping close to freezing.
In other words, Sacramento is finally getting some normal January weather.
This follows some of the hottest days in Sacramento's January history including a record-tying 74 degrees. Nearby Stockton hit 78.
That heat prompted many plants to break dormancy and push out new growth. Some of that tender new foliage may need frost protection.
A winter storm warning with high winds and rain is in effect
from 3 p.m. Sunday to Monday morning
.
Be ready for frost: The over night low for Sacramento is expected to be only 30 degrees
Monday night
. Then, another, stronger storm is expected to hit early Wednesday.
Plan your gardening week accordingly, paying attention to what's on your priority list:
* Plant bare-root roses, trees and shrubs. If your ground seems saturated, consider planting your garden additions in large black plastic pots. The black plastic will warm up faster than the ground soil and give roots a healthy start. Then, transplant the new addition (rootball and all) into the ground in April as the weather warms.
* Prune, prune, prune – particularly roses and deciduous shrubs. They're already starting to grow.
*
Sunday (Jan. 24)
is the final day of the City of Sacramento's leaf season with in-street pick-up. Say goodbye to The Claw for another year.
* Just because it rained, not everything got watered. Check plants in sheltered areas such as on the patio or under eaves.
* Clean up leaves and debris around your newly pruned roses and shrubs.
* Put down fresh mulch or bark to keep roots cozy.
* Browse through seed catalogs and start making plans for spring and summer.