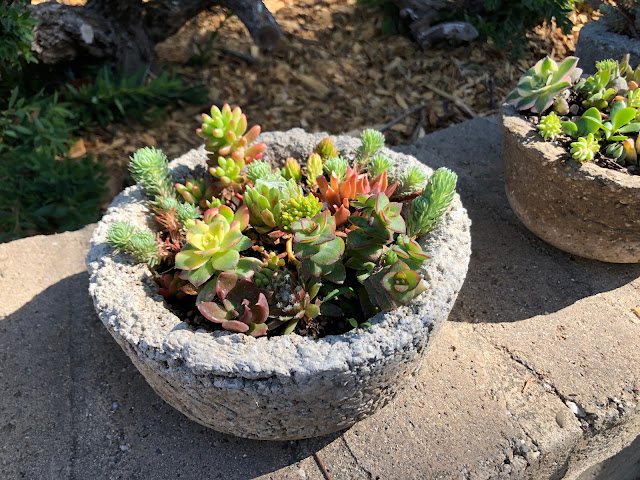 Succulents are easy-care plants, once their few needs are understood. Learn all about them in
an online class from the Sacramento County master gardeners. (Photo: Kathy Morrison)
You're probably aware that succulents have been leading the trends for plants the past few years. But do you know your Dudleya caespitosa from your Crassula muscosa ?
Gardeners who want to learn more about these intriguing, easy-care plants will want to sign up for a free lunchtime Zoom class scheduled 12:15 -1 p.m. Thursday, April 8.
"Get Sharp: Introduction to Cacti and Succulents" will be taught by UCCE Sacramento County master gardeners Andi MacDonald and Theresa Roberts. They plan the online class to include:
-- An overview of succulents including cacti and euphorbia.
-- The features that make them versatile plants to grow in containers and in the landscape.
-- Tips and demonstrations on essential care and cultivation practices.
-- Common problems and solutions.
-- Learn which varieties are well suited for the Sacramento area.
There is no cost, but registration is required. Register here . Students will receive a confirmation email and a link to the class. The Zoom session will open at noon and instruction will begin at 12:15 p.m.
Dudleya caespitosa, incidentally, is part of the large Dudleya family and a California native; one of its common names is sea lettuce. Crassula muscosa is known as watch chain plant.
To find out more from the Sacramento County master gardeners, including their many garden guides and tips, visit http://sacmg.ucanr.edu/
-- Kathy Morrison