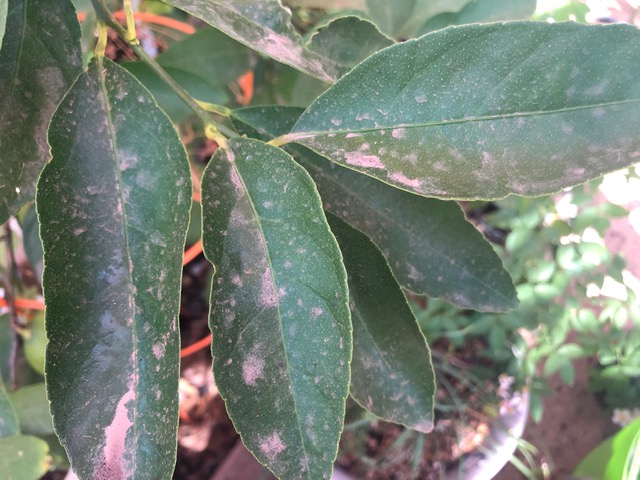 The plant equivalent of a rain-spotted windshield: Just enough rain fell to mess up
this lime tree's leaves but not enough to clean them. (Photos: Kathy Morrison)
Our "September surprise" caused a bit of a splash.
For the first time in nearly six months, parts of Sacramento got (sort of) wet. Starting late Thursday night, thunderstorms provided our first measurable precipitation (at least in some parts of Sacramento) since the final days of this past winter.
According to the National Weather Service, this dry spell was nearly historic.
"The last time measurable rain at Downtown Sac was 175 days ago on Mar 19, 2021," the weather service tweeted Friday. "With a near-continuous period of record going back to the 1870s, this is the second longest dry streak on record. The longest streak was 194 days occurring May 13, 1880 to Nov. 22, 1880."
In other words, this has been the longest Sacramento dry spell in 141 years!
But wait! Although there was measurable rain (0.05 inches) at Sacramento Executive Airport, Downtown Sacramento's rain monitors stayed dry.
"Downtown Sacramento rain gauge reported 0.00" of rain today," tweeted the weather service Friday afternoon. "NWS employees went on-site (to) verify it was recording properly. Upon further review, we can confirm that no rain fell. While there was light rain at Sac Exec, the rain-free streak at Sac Downtown continues."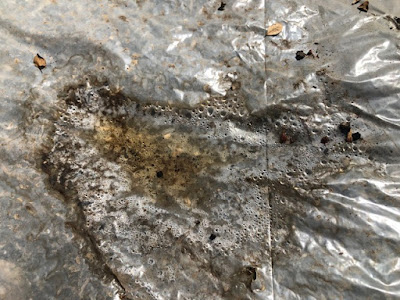 A puddle remained on solarizing plastic Friday afternoon after
a spotty rain late Thursday and early Friday.
How rare is September rain? Historically, Sacramento averages 0.29 inches in September, but almost always that rain falls near the end of the month. October, which averages nearly an inch of rain, starts our official "rain year" and traditional rainy season.
So, even though it looked like rain, felt like rain (and sure sounded like a thunderstorm), Sacramento's second longest dry spell will stretch a while longer. It's possible that we may still break the all-time record. We'll hit that 194-day mark on Sept. 29.