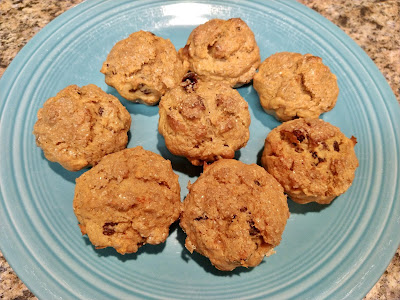 Sweet potato muffins are an excellent treat to bake
on a rainy day. (Photos: Debbie Arrington)
Rainy days are made for baking. That's when I pull out the muffin tin.
Muffins are a handy treat good for anytime snacking, on-the-go breakfast or after dinner with coffee. When they include high-nutrient vegetables or fruit, they might even be healthy.
With dark red skin and orange flesh, Garnet sweet potatoes are packed with vitamins and antioxidants. And right now, they're available in abundance. Other varieties also work in this quick and easy recipe.
Two small sweet potatoes or one medium will yield ½ cup pulp. To cook quickly, trim ends and prick with a sharp knife in several places. Wrap sweet potatoes in a paper towel and zap them for 4 minutes on High in the microwave until fork-tender. The flesh will slip right out of the skin. After mashing, a little orange juice keeps the color bright.
Leftover mashed sweet potatoes also work in this recipe.
Sweet potatoes are in abundance now. They're packed

with vitamin A, as well as C, D and calcium.

Sweet potato muffins
Makes 1 dozen 2-inch muffins
Ingredients:
1 cup all-purpose flour
¼ cup sugar
½ teaspoon salt
1 teaspoon baking powder
1 teaspoon pumpkin pie spice
½ cup mashed sweet potatoes, cooled
1 tablespoon orange juice
1 egg, lightly beaten
1/3 cup milk
2 tablespoons butter, melted and cooled
½ cup raisins or dried cranberries
2 tablespoons Demerara sugar or white sugar
Instructions: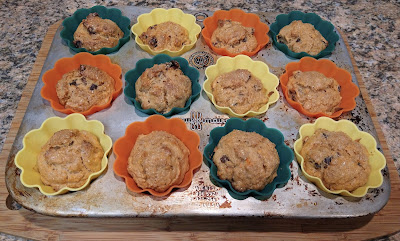 Silicone liners make for easy pan cleanup.


Preheat oven to 400 degrees F.
In a large bowl, mix together dry ingredients.
In another bowl, mix together mashed sweet potatoes and orange juice. Add beaten egg and milk. Fold in melted butter.
Add sweet potato mixture to dry ingredients with big strokes, just until blended. Fold in raisins.
Prepare muffin tin; grease cups or line with paper or silicone liners.
Fill cups about two-thirds full of batter. Sprinkle tops with Demerara or white sugar.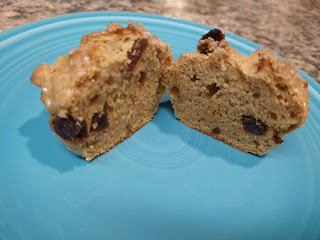 Muffins are great for breakfast or a midday snack,
or even dessert.
Bake in preheated 400-degree oven for 20-25 minutes or until a toothpick inserted near the center comes out clean.
Serve warm or at room temperature.