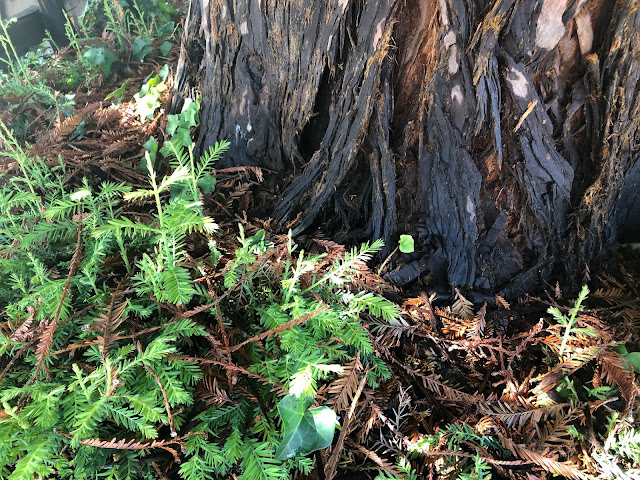 Redwoods and other trees got soaked this weekend. Avoid walking or driving
around their base until the soil has dried somewhat.  (Photos: Kathy Morrison)
In the same month that Sacramento set a record for longest dry spell came the wettest day in Sacramento history.
According to the National Weather Service, Downtown Sacramento received 5.44 inches in a 24-hour period, starting Sunday morning and ending before dawn Monday. That was 69% of the total precipitation (7.87 inches) measured at the weather station during the entire previous Water Year, which ended Sept. 30.
The percentage was even higher at Sacramento Executive Airport. That weather station received 5.41 inches, nearly 82% of its 2020-21 Water Year total (6.61 inches).
Normal for the entire month of October in Sacramento: 0.95 inches.
Before this storm, Sacramento's rainiest day on record was 5.28 inches, set in April 1880.
Called a "bomb cyclone," Sunday's massive weather system caused isolated flooding and mudslides in Northern California, particularly in areas burned by recent wildfires. More than 10 inches of rain fell at Blue Canyon's weather station. The Sierra also saw significant early snowfall, which is expected to continue through Tuesday.
This storm was a soggy contrast to Sacramento's October 2020, which had no precipitation. It also followed a record dry streak of 212 days with no measurable rain in Downtown Sacramento; that streak ended Oct. 17 – one week before Sunday's record storm.
After possible thunderstorms through Monday night, Sacramento can expect more dry weather. The weather service predicts pleasant and sunny days in the low 70s, starting Wednesday.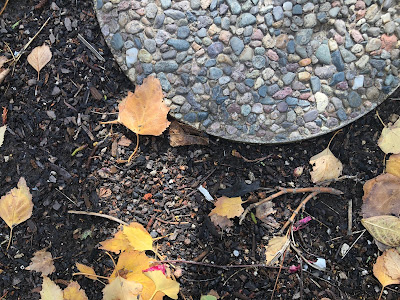 Stepping stones allow the gardener to check on plants without
compacting the soggy soil.
In the meantime, be careful around soggy soil. When stepped on, it can compact easily, squishing out needed air pockets. Avoid digging until soil has drained sufficiently and is merely moist, not waterlogged.
Keep an eye on big trees. They can be particularly vulnerable now. Avoid walking (or driving) around their base until soil has dried and their roots stabilize. If a tree is leaning, call an arborist.
After two years of drought, trees have lost a lot of their roots, especially coastal redwoods and other conifers. With fewer roots, they have less stability. Saturated soil makes matters worse.
In situations like this, all it takes is a big gust of wind to uproot a 60-foot tree. During Sunday's storm, Sacramento experienced gusts of more than 50 mph, resulting in broken branches as well as downed trees.
Conifers are usually most at risk in these situations because they hold their foliage year-round. Their needles become saturated with water and they become top heavy. Branches can snap from the added weight.
This October storm hit as Sacramento trees were just beginning to show their fall color. That meant most deciduous still had their foliage, which caught the wind as well as water, putting them at risk of damage, too.
Fortunately, these upcoming sunny days are expected to help trees and soil dry out and stabilize.
Meanwhile, the rain gave everything a very deep and thorough soaking. If they're not already off, turn off sprinklers and other irrigation for at least a week.