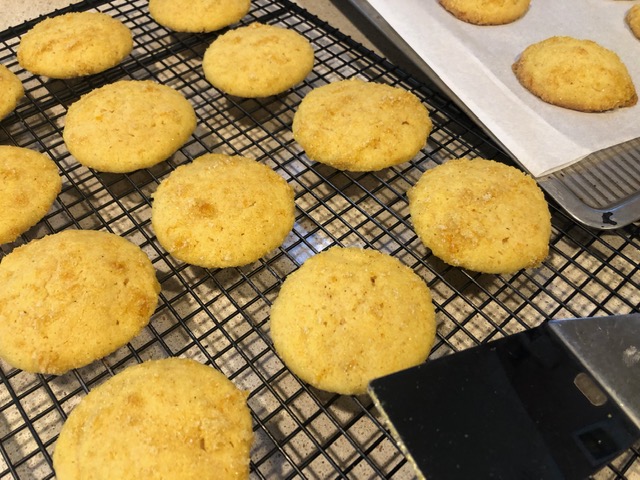 Wet, gray, cold -- sounds like perfect cookie-baking weather. And a couple of large oranges self-harvested from my little Washington navel tree. They're not at their ripest, but the zest is definitely usable.
So I found a new winter cookie among the group of recipes that King Arthur Flour released this year, a collection dubbed "The New Classics." A sugar cookie is about as classic as you can get, and this zesty version is a winner -- and very pretty. It's more likely to appeal to adults than kids, and would go especially well with a good cup of tea.
The cardamom and turmeric are less-common spices in baking but they shine here. Substitute allspice for the cardamom if you're not a fan, but the turmeric is essential for the cookies' delightful color.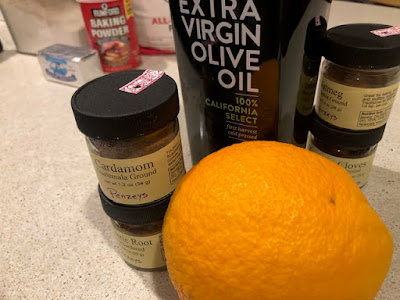 Olive oil-orange sugar cookies
Makes about 30 cookies
Ingredients:
8 tablespoons (1 stick) unsalted butter, softened but not melty
1/2 cup confectioners' sugar, sifted if lumpy
1/2 cup granulated sugar
1/2 cup good-quality olive oil
Zest of 1 large or 2 small oranges
1 large egg
2 teaspoons vanilla extract
1/2 teaspoon turmeric
1/4 teaspoon ground nutmeg
1/4 teaspoon ground cloves
1/4 teaspoon ground cardamom (or allspice)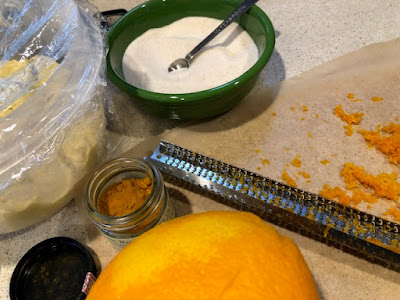 1/8 teaspoon baking soda
3/4 teaspoon baking powder
1/2 teaspoon salt
2 cups unbleached all-purpose flour
Coating:
1/2 cup granulated sugar or sanding sugar
1/4 teaspoon ground cardamom (or allspice)
1/4 teaspoon turmeric
Zest of 1 large or 2 small oranges
Instructions:
Cream the butter with the sugars. Add the olive oil and zest and combine thoroughly. Stir in the egg, vanilla and spices until mixture is smooth.
Stir in the baking soda, baking powder, salt and flour, mixing until smooth.
Cover the bowl and refrigerate for at least 2 hours or overnight.
When ready to bake, preheat oven to 350 degrees, and line baking sheets with parchment paper. (Alternatively, lightly grease the baking pans.)
Make the coating by combining all the ingredients in a small bowl. Scoop the dough by tablespoons (a cookie scoop is ideal) and roll into balls, then roll the balls in the sugar coating.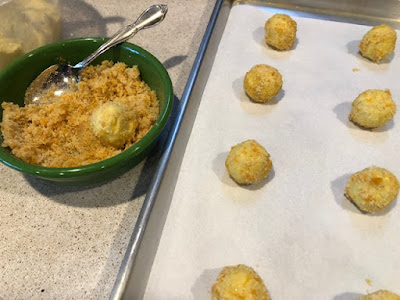 Place the balls on the parchment paper about 1-1/2 inches apart.
Bake for 12 to 15 minutes, until the edges just are starting to brown. Let them cool on the pan on a cooling rack for about 10 minutes before removing to cool completely.
Make-ahead note: The balls of dough, without the sugar coating, can be frozen. When ready to bake, make the coating and roll the frozen dough in it; no need to defrost, but allow a little extra time for baking.