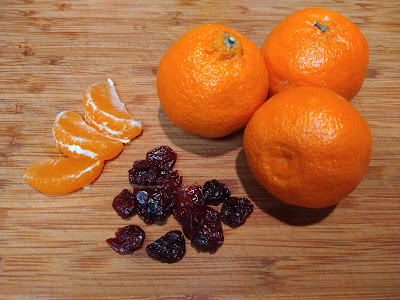 The mandarins and dried cherries make this recipe
stand out. (Photos: Debbie Arrington)
Winter salads make the most of in-season vegetables. For ingredients, there are plenty of lettuces, cabbages and other leafy greens plus root vegetables galore.
But what about the juicy fruit part of a balanced salad? Tomatoes usually play that role. But in January, a good-tasting tomato can be hard to find.
Mandarins make a great salad substitute. Their easy-peel segments are just the right size and juiciness, adding texture as well as bright citrus flavor. They work well with vinaigrette in a green salad. They're also dynamite with cabbage in cole slaw.
This slaw started with my grandmother's cole slaw recipe, which is good on its own. The addition of mandarins really made it sparkle.
Also adding texture and bursts of flavor to this slaw are dried cherries. Raisins will work, too; cherries contribute tartness to balance the sweet mandarins.
Easy enough for any time, this salad can be made the night ahead (covered and refrigerated) and is pretty enough for special occasions. Think of it as cole slaw supreme.
This easy winter salad features citrus instead of

tomatoes.

Mandarin cole slaw
Makes 4 to 6 servings
Ingredients:
3 large mandarins
¼ cup dried cherries or raisins
2 green onions, chopped
1 medium carrot, shredded
1 cup Romaine lettuce, shredded
2 cups cabbage, shredded
Dressing:
¼ cup mayonnaise
1 tablespoon red wine vinegar
½ teaspoon Worcestershire sauce
1 teaspoon sugar
Seasoning salt and black pepper to taste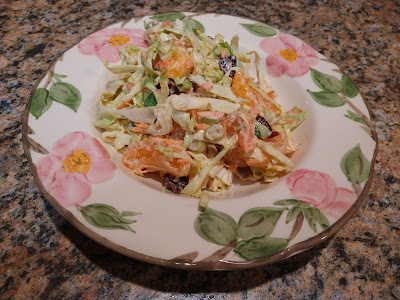 Pretty and nutritious, too!

Instructions:
Peel mandarins and separate segments, removing any seeds.
In a large bowl, combine mandarin segments, dried cherries or raisins, green onions, carrot, lettuce and cabbage. Toss gently.
Prepare dressing: In a small bowl, combine mayonnaise, red wine vinegar, Worcestershire sauce, sugar, seasoning salt and pepper.
Pour dressing over mandarin-cabbage mixture. Toss to coat. Serve.
Refrigerate covered if not served immediately.