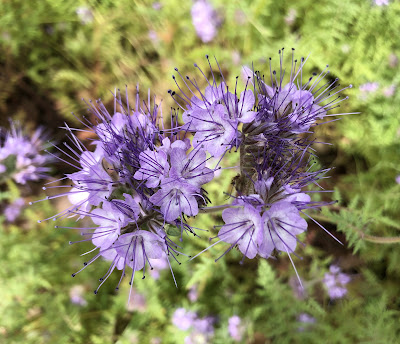 Lacy phacelia ( Phacelia tanacetifolia ) is among the
California native plants that workshop attendees can
learn about at Soil Born Farms. (Photo: Kathy Morrison)
Want to go native? Get a quick course for success during a workshop hosted by Soil Born Farms.
Set for 10 a.m. to 12:30 p.m. Saturday, Jan. 22, this informative workshop will cover a lot of ground, including a tour of the Elderberry Farms Native Plant Demonstration Garden located at Soil Born Farms' American River Ranch.
"Native plants are drought-tolerant, low-maintenance, beautiful and attract wildlife," say the organizers. "Get a hands-on introduction to planting, growing and planning your garden with native plants. There's nothing easier to grow than the natives, but it takes just a bit more observation and knowledge to get them to thrive."
Native plant specialist Mark Shaffer, of Happy Grow Lucky Landscaping and the California Native Plant Society, will teach the basics as well as offer many tips for success. Elderberry Farms' native plant nursery is also located at Soil Born Farms.
Advance registration is required. Course fee is $30.
Soil Born's American River Ranch is located at 2140 Chase Drive, Rancho Cordova.
To register: https://soilborn.org/events/gardening-native-plants-1-22-22/
Details and directions: www.soilborn.org .