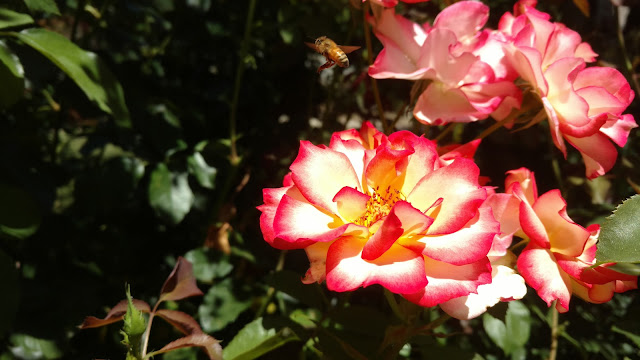 A honeybee is attracted to these Betty Boop roses. (Photo: Debbie Arrington)
Want more buzz in your garden? Learn how to attract bees and other beneficial insects during a free virtual workshop, hosted by the UC Cooperative Extension Master Gardeners of Nevada County.
Set for 10 a.m. Saturday, Feb. 12, "Encouraging Beneficial Insects" is open to gardeners everywhere with no advance registration required. Just click the link and Zoom on in. Find it here: https://ncmg.ucanr.org .
Beneficial insects include a lot more bugs than honeybees.
"Pollinators are necessary for food and flower production," say the master gardeners. "Parasitic insects are healthy alternatives to chemical pesticides. We'll explain why these insects are desirable and what they need to flourish in your garden.
"We'll list specific beneficial insects, and specific plants they love in Nevada County," they add, "and teach you how to use online resources to find more insects and plants on your own."
That plant list is applicable to most of the greater Sacramento region, too. Plant them and they will come!
Attracting beneficial insects to your great outdoors will make your landscape a much livelier place. Bees, butterflies, lady beetles, praying mantises, parasitoid wasps and more can help you be a better and more thoughtful gardener.
The Nevada County master gardeners hope to start holding in-person public workshops soon. In the meantime, Zoom workshops will continue as an alternative. Upcoming topics include: "Native Plants Bring Beauty and Benefits" (in two parts, Feb. 19 and 26); fire-wise landscaping (March 5); and "Functional Irrigation" (March 12). All workshops start at 10 a.m.
Details: https://ncmg.ucanr.org .