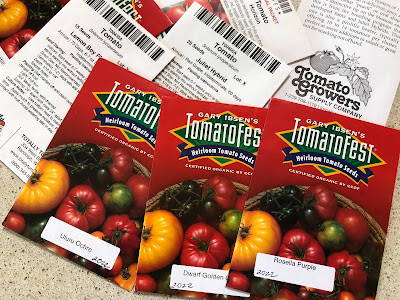 Dwarf varieties are among my tomato seed
purchases this year. (Photo: Kathy Morrison)
When it's so cold outdoors this week, it's nice to think of warmer days and summer vegetables.
There's still plenty of time to start seeds for tomatoes and other summer favorites. For a little extra help, check out an online Zoom class this weekend, presented by the Solano County master gardeners.
"Starting Seedlings for Summer, Even When It's Cold Outside" will be hosted by master gardener Alex Russell, 10 a.m. to 11 a.m. Saturday, Feb. 26. The Zoom link is here .
Last year I started all my tomatoes in late January and early February. Three weeks later,  several had collapsed from inattention (I had a busy winter!) and I had to start them again -- what a waste of seeds and time. With a trip planned in the middle of the month this year, I decided to delay my seed-starting until after I returned.
The tomatoes include my favorites, Juliet, Big Beef and Lemon Boy, while this year's experiments include some of the new dwarf heirloom tomato varieties developed by the Dwarf Tomato Project and sold on the TomatoFest online store. The link will take you to a detailed description of the project, which started in 2005.  For the seed listings, go here.
The distinction between dwarf tomatoes and compact determinate ones is important: The flavor apparently is better, and "these dwarf types are very distinctive in having a thick central stem, stout compact growth, and dark green, crinkly looking (so-called rugose) foliage." They top out at 3 to 4 feet in height, apparently.
This project has produced 30 varieties of open-source seeds. Many gardeners have limited space for tomatoes, so I'll be interested to see how these grow out in a Sacramento summer. I bought seeds for 4 varieties:
-- Uluru Ochre, 65 days, a 6- to 12-ounce "uniquely colored" orange-black tomato (SF Giants colors!). Indeterminate.
-- Dwarf Hannah's Prize, 75 days, 6- to 12-ounce, red with some light striping.
-- Dwarf Golden Gypsy, 75 days, 8- to 18-ounce, yellow-gold. Indeterminate.
-- Rosella Purple-Dwarf, 78 days, 6- to 12-ounce purple-black (similar to Cherokee Purple). Indeterminate.
Stay tuned this year for progress reports on these varieties.