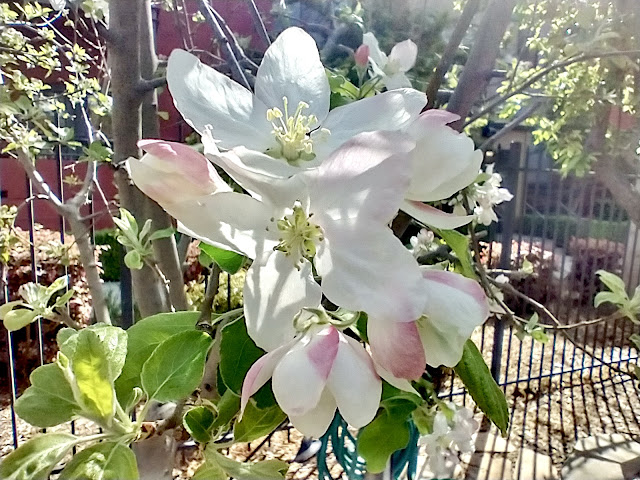 It's apple blossom time -- and time to feed flowering trees and shrubs. (Photo: Debbie Arrington)
Spring arrives Sunday, followed by what looks like a record heat wave.
According to the National Weather Service, Sacramento can expect four days in the 80s, starting Tuesday. This May-like weather peaks at 85 degrees on Wednesday, which would be a record for that date. The all-time hottest March day in Sacramento: 88 degrees.
This spike is 20 degrees higher than Sacramento's average for mid-March – 65 degrees. Overnight lows (50-53 degrees) are also considerably higher than normal (44 degrees). Those two trends may warm soil up enough to start planting tomatoes – but not quite yet.
A cooldown to more-normal March temperatures is expected next weekend. Hopefully, more rain will follow.
As of noon, Saturday's storm was less than spectacular. Although there were lots of clouds, rain wasn't hitting the ground. The weather service lowered its rain estimate to 0.10 inches for most of Sacramento.
"Radar looks more impressive than reality," the Sacramento NWS office tweeted Saturday morning. "Dry air has largely prevented rain from making it to the Valley surface (virga); only a trace of rain reported at Sac Exec & Int'l (airports). Chance of showers & even a rumble of thunder will be possible for the Valley through sunset."
Check your soil moisture to see if your garden got the rain it needed. If not, give everything a deep soaking to prepare your plants for the heat ahead.
* Fertilize roses, annual flowers and berries as spring growth appears. Always water before fertilizing.
* Look out for aphids. Blast them off plants with a stream of water.
* Pull weeds now! Don't let them get started. Take a hoe and whack them as soon as they sprout.
* Prepare summer vegetable beds. Spade in compost and other amendments.
* Prune and fertilize spring-flowering shrubs after bloom. Try using well-composted manure, spread 1-inch thick under the tree. This serves as both fertilizer and mulch, retaining moisture while cutting down on weeds.
* Feed camellias at the end of their bloom cycle. Pick up browned and fallen flowers to help corral blossom blight.
* Feed citrus trees as they start to bloom.
* Cut back and fertilize perennial herbs to encourage new growth.
* Seed and renovate the lawn.
* In the vegetable garden, transplant lettuce and cole family plants, such as broccoli, collards and kale.
* Seed chard and beets directly into the ground. (Beet seeds benefit from soaking first.)
* Plant summer bulbs, including gladiolus, tuberous begonias and callas. Also plant dahlia tubers.