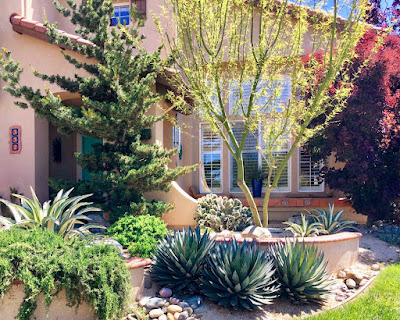 View seven private gardens around Folsom this
weekend during the 20th annual Gardens of Folsom
tour. (Photo courtesy Folsom Garden Club)
Folsom celebrates spring with a milestone: the 20th annual Gardens of Folsom tour.
Hosted by the Folsom Garden Club, this lovely tour showcases gorgeous private gardens – for a good cause. Proceeds support scholarships for local students.
Set for 11 a.m. to 4 p.m. Saturday and Sunday, April 23 and 24, the tour will feature seven private gardens within easy driving distance.
Tickets are $20; children and youths age 15 and younger are admitted free with an adult.
"Throughout the gardens, you'll find Master Gardeners on hand to answer your gardening questions, and artists painting in the gardens," say the organizers. "We have a plant sale, too, loaded with horticultural treasures at bargain prices at the Murer House, 1125 Joe Murer Court, Folsom.
"And then there's our famous bake sale, which offers amazingly yummy delights. Insider tip: the Bake Sale always sells out fast, so get there early before the tasty treats disappear. Also, enjoy a fabulous on-site food truck and an exciting raffle."
Tickets are available online via the link below or at the first home on the tour at 129 Ofria Drive, Folsom.
Details: https://www.folsomgarden.org/2022-annual-garden-tour/