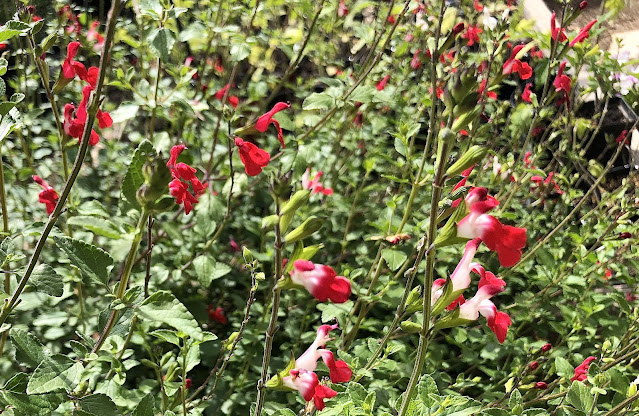 Salvia × jamensis 'Hot Lips' is an Arboretum All-Star popular with bees, hummingbirds -- and gardeners. Saturday's sale will have 50 of the plants available. (Photo: Kathy Morrison)
Calling all All-Star lovers: This is your last chance this spring to purchase these UC Davis Arboretum favorites direct from the arboretum's Teaching Nursery.
On Saturday, April 30, the Arboretum Teaching Nursery hosts its final plant sale of the season, a clearance of its spring inventory. The catch? It's open only to Friends of the Arboretum. Due to construction at the nursery, there are no public sales this spring.
The good news? Shoppers can join the Friends at the gate – and get a welcome gift, too.
All Friends get a 10% discount and one free plant coupon per season as a member appreciation gift. New members also get a free plant coupon.
Sale hours are 9 a.m. to 1 p.m. Saturday. The nursery added thousands of plants including dozens of new varieties to its inventory for this sale, including many native plants. The nursery specializes in water-wise flowering perennials, ground covers and shrubs. Also find an excellent selection of succulents.
To see the inventory in advance, go to: https://arboretum.ucdavis.edu/plant-sales . There's also a new photo gallery of the available plants, viewable here .
The nursery asks shoppers to bring their own boxes, if possible, to take home their new plants.
The Arboretum Teaching Nursery is located on Garrod Drive opposite the Veterinary Medicine complex and small animal hospital on the UC Davis campus. Besides hosting the plant sale, the nursery is also home to beautiful demonstration gardens showcasing the Arboretum All-Stars and other water-wise collections.
For directions and more: https://arboretum.ucdavis.edu .