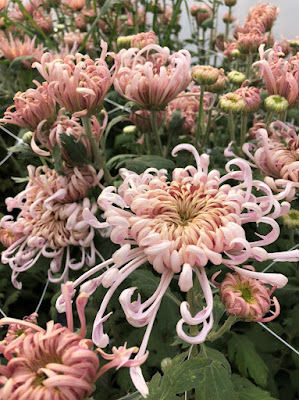 Satin Ribbon spider mums are an example
of the types of rooted cuttings that will
be for sale Satursday. (Photo courtesy
Sacramento Chrysanthemum Society)
Mum's the word this Saturday, May 14, at Shepard Garden and Arts Center during the annual Chrysanthemum Cutting Sale.
If you love mums, this is the sale for you. with an excellent selection of unusual varieties. Presented by the Sacramento Chrysanthemum Society, the sale features hundreds of mum plants, grown from cuttings by club members from their collections.
Admission and parking are free. Sale hours are 9 a.m. to 3 p.m. Saturday, but plan on shopping early – this event can sell out.
"This is a popular event and eager shoppers arrive early for the best selection and varieties," say the organizers. "The members have grown a great selection of many of the popular varieties, including the exotic spiders, quills and the very large exhibition bloom types."
How do you choose – especially when you can't see the flowers? The club will help.
"The plants are not in bloom and are identified by cultivar name and color with a picture of the flower in bloom," say the organizers. "Club members will be available to assist with your selection."
These healthy young plants will grow rapidly. Most will bloom this fall – and for many years to come.
Shepard Center is located at 3330 McKinley Blvd., Sacramento, on the north end of McKinley Park.
Details and directions: www.sgaac.org .