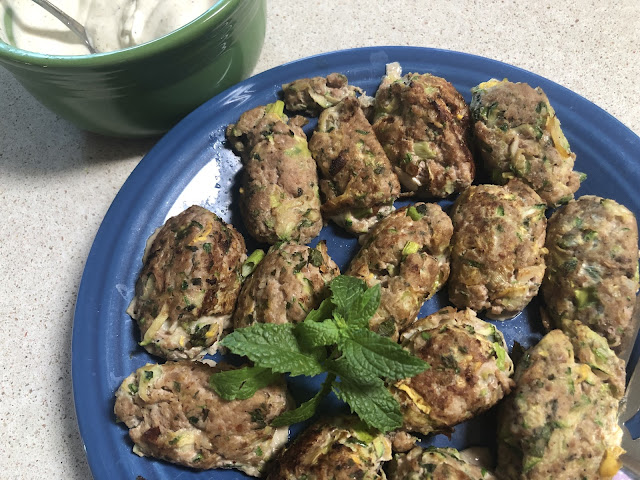 Zucchini is the all-purpose "what you will" vegetable. It can be spiced up, sweetened up, buried in chocolate or turned into pickles . Ground turkey, meanwhile, is equally bland yet flexible: It adapts to any food style with ease.
Chef and cookbook author Yotam Ottolenghi put these two malleable ingredients together for his cookbook "Jerusalem," in a spiced dish he called burgers. But a food blogger, Lisa at Panning the Globe , notes that they should be called meatballs -- even though they're not classic meatball shape. She likes them as appetizers with dipping sauce, but I found them to be a wonderful summer entree, served with the yogurt sauce along with a quinoa-grain blend and a green salad.
I did not have the cilantro or sumac called for in the original recipe, and only a bit of the yogurt, so I substituted freely. Note to cilantro-haters: Parsley substituted just fine for the cilantro. The sumac was replaced by a combination of ground coriander and za'atar spice mix, along with a bit more lemon juice. (My suggestion: Try lemon zest.)
I had a full cup of sour cream, so that all went into the sauce along with the last of the yogurt. This made a lot of sauce; it was also a bit too thick so I added more lemon juice. The recipe below reflects what I'll do next time.
I did have a nice mix of mint from my garden for the meatballs, but if you are buying mint, go for something in the spearmint end rather than peppermint, which is too strong.
The leftovers made a great lunch, wrapped in tortillas (I'd have used pita bread if I'd had it) with baby lettuce and dolloped with that yogurt sauce.
Turkey zucchini meatballs with yogurt sauce
Serves 4-6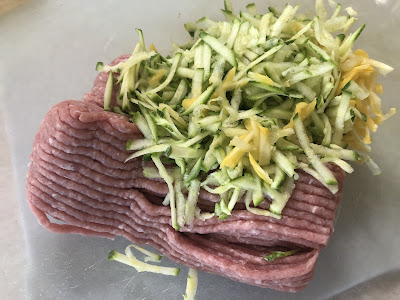 Two colors of zucchini went into my version of the meatballs.
Ingredients:
For the yogurt sauce:
1/2 cup sour cream
1/2 cup plain Greek yogurt
1 tablespoon lemon juice
1 garlic clove, pressed or finely minced
1-1/2 tablespoons olive oil
1 tablespoon of sumac or a combination of coriander, za'atar and lemon zest
1/2 teaspoon salt
1/4 teaspoon fresh ground black pepper
For the meatballs:
1 pound ground turkey
1 large egg, lightly beaten
1 large or 2 medium zucchini, grated
4 to 6 scallions, sliced thin
2 tablespoons chopped mint leaves
2 tablespoons chopped cilantro leaves or Italian parsley leaves
2 to 3 large cloves garlic, minced
1 teaspoon ground cumin
1 teaspoon salt
1/2 teaspoon cayenne pepper
1/2 teaspoon fresh ground black pepper
Vegetable oil for sautéing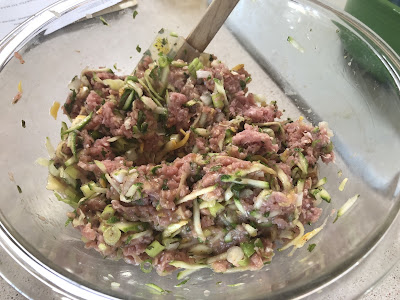 Instructions:
Combine all the ingredients for the yogurt sauce. Stir and taste, correcting the spices, and set aside or refrigerate.
Mix together the turkey, egg, zucchini and scallions. Mix in the mint, cilantro or parsley, garlic, cumin, salt, cayenne and pepper.
Prepare a large rimmed baking sheet with a piece of parchment paper. Form the meat mixture in oval meatballs, using about 2-1/2 tablespoons for each. To keep the mixture together, form the meatballs by gently squeezing them and tossing them back and forth in your hands 3 or 4 times.
Heat oil in a large skillet over medium-high heat. Put several of the meatballs in the pan, and brown all over, about 5 minutes. Remove the browned meatballs to the baking pan and repeat with the rest of the meat mixture until all the meatballs are browned.
Heat oven to 425 degrees. Cook the meatballs in the oven for 6-8 minutes or until cooked through.
Serve hot or at room temperature with the yogurt sauce. Meatballs are easily reheated.