Dark chocolate brings extra richness to zucchini bread. Try this treat for brunch or dessert.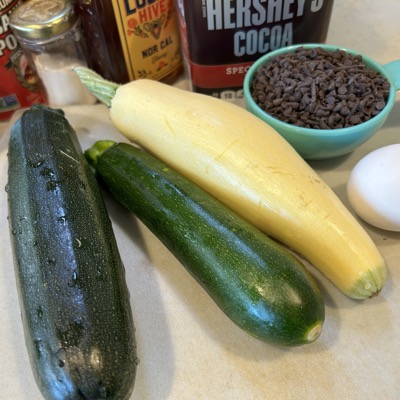 This recipe debuted on the blog in July 2018, just a few weeks after we started posting as Sacramento Digs Gardening. But I had been making it for years, often at the request of family members, friends or co-workers.
Sure, zucchini bread, a great way to use up those prolific squashes. There are a million recipes out there. But this one – which I adapted from one in "Brilliant Food Tips and Cooking Tricks" by David Joachim – has a couple of twists that make it special.
One is the spices: Cinnamon, of course, but also ground cloves, which gives the flavor extra depth. Don't skip them! And I use dark cocoa to heighten the chocolate flavor, though regular baking cocoa works fine.
The recipe also is very adaptable: You can leave out the chocolate chips and cocoa, or add some nuts or other mix-ins. I've baked it into muffins on a number of occasions.
I also reworked it for a vegan friend, substituting a "flaxseed egg" (1 tablespoon of ground flaxseed mixed with 2-1/2 tablespoons water and allowed to rest for 5 minutes) for the egg, as well as agave nectar for the honey, and almond milk for regular milk.
One important instruction will keep the bread from being mushy: Pat dry the zucchini with paper or cloth towels after shredding it. Summer squash contains a lot of water, and this will help cut the liquid content.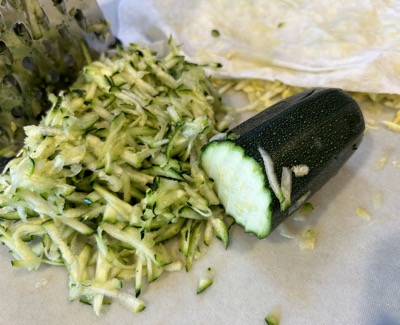 Baseball bat-size zukes are drier, but they do have large seeds, so remove those before shredding the squash. Which reminds me: This recipe also works with crookneck squash (again, remove the larger seeds), pattypan or yellow straightneck.
The resulting bread is spectacular with a cup of coffee for a mid-morning break, or with a dollop of whipped cream for dessert. And fewer zucchini to worry about using!
Chocolate zucchini bread
Makes 1 loaf, about 10 slices
Ingredients:
1-1/2 cups shredded zucchini (about two 6-inch squashes)
2/3 cup granulated sugar
1/4 cup milk (dairy or non-dairy)
1 egg (or use the flaxseed egg method noted above)
2 tablespoons canola or other neutral vegetable oil
2 tablespoons honey OR agave nectar
1 teaspoon vanilla extract
1-1/3 cups all-purpose flour
3/4 teaspoon baking powder
1/2 teaspoon baking soda
1/8 teaspoon salt
1 teaspoon ground cinnamon
1/2 teaspoon ground cloves
1/2 cup unsweetened cocoa (regular or dark)
1/2 cup mini chocolate chips
Powdered sugar (optional)
Instructions:
Preheat oven to 350 degrees. Grease a 9-by-5-inch (preferred) or 8-by-4-inch loaf pan.
Pat shredded zucchini dry with paper towels or a clean dishtowel. In a medium bowl, combine sugar, milk, egg, oil, honey or agave, and vanilla.
In a large bowl, whisk together the flour, baking powder, baking soda, cinnamon, cloves, salt and cocoa. Note: I add the cocoa by putting it through a wire mesh strainer to remove the lumps, but it's not required.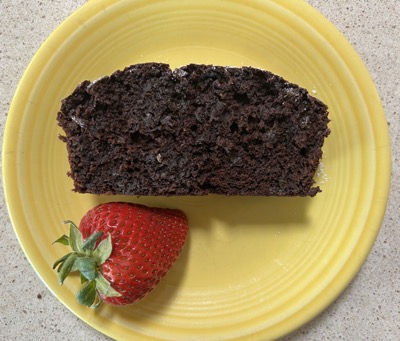 Add the zucchini, the milk mixture and the mini chips to the flour mixture. Stir just until moistened -- the batter will be thick. Scrape the batter into the prepared loaf pan and bake until a wooden pick inserted in center comes out clean, 35-45 minutes, depending on the size of the pan. (You might get some melted chocolate chips on the pick -- that's OK.)
Cool in pan 10 minutes. Remove and cool completely on a rack. Sprinkle powdered sugar on top, if desired.
Variations:
Non-chocolate zucchini bread: Omit the cocoa and chips, but otherwise follow the instructions above.
Mix-ins: For either chocolate or regular zucchini bread, stir in 1/2 cup shredded coconut or 1/2 cup chopped dried cherries or 1/2 cup chopped toasted walnuts when you add the zucchini. Bake as instructed above.
Muffins: Grease a 12-cup muffin pan. Divide batter between cups. Bake at 350 degrees for 22-25 minutes.