Roasted pumpkin and herbed greens fill these mini turnovers, ideal for party appetizers.
The big piles of pumpkins this year at the supermarkets and farmers market stands are so enticing. Even if I never get around to carving it, I like buy at least one big fellow for seasonal atmosphere.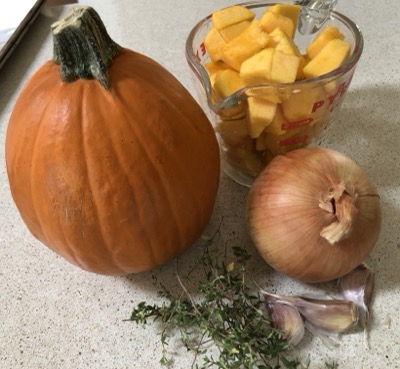 But the pumpkins I will gladly take a knife to are much smaller – they're the sugar pumpkins, also called pie pumpkins, that are sweeter and less stringy than the big jack o'lantern variety. They have a mild flavor that works well with all those pumpkin pie spices, of course, but also in just about any dish that calls for butternut squash.
With Halloween parties and other holiday gatherings approaching, I wanted to create an appetizer recipe that features pumpkin as a savory vegetable, not a sweet puree. Onions and garlic, plus some sturdy greens, round out the flavors here. I tossed in a little bit of chopped mushroom, just because. Feel free to substitute butternut squash if that's what you have on hand. Also, reduce the amount of greens if preferred, but don't eliminate them – they add a nice complexity to the filling.
Note: After making 32 mini turnovers, I had filling left over. I plan to combine it with some freshly cooked pasta, but there would be enough for another 16 turnovers, if I were planning a party. Unbaked turnovers, without the egg wash on top, also can be frozen on the pan, stored in a closed container and baked later.
Mini turnovers with pumpkin and herbed greens
Makes 32 appetizers with extra filling
Ingredients:
1 pound of sugar pumpkin (about half the typical sugar pumpkin), seeds and skin removed, cut into 1-½-inch chunks, about 2 cups total
Vegetable oil
Kosher salt
Freshly ground black pepper
1 cup chopped yellow onion
3 garlic cloves, flattened and minced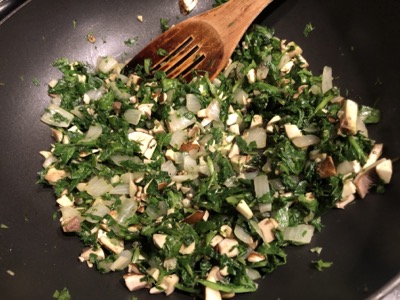 Up to 5 ounces (1 bag) washed baby greens, such as chard, spinach or kale, or a combination, chopped
2 large cremini mushrooms, finely chopped (optional)
1 teaspoon finely chopped fresh rosemary
Leaves from 4 or 5 stems fresh thyme
1 17.3-ounce box puff pastry, both sheets defrosted but kept in refrigerator until needed
1 egg, beaten
Instructions:
Heat oven to 400 degrees F. Cover a sheet pan with parchment paper. Spread the pumpkin chunks on the pan, drizzle with oil, sprinkle on a bit of salt, and gently toss. Bake for 30 minutes, stirring after 15 minutes. Pumpkin should be just fork-tender and the chunks barely starting to brown. Let cool.
In a sauté pan, heat 1 tablespoon of oil. Sauté the onion for about 5 minutes, then add the minced garlic. Stir for another 2 minutes, then add the chopped greens, the mushrooms, rosemary, thyme, 1/2 teaspoon salt and several grinds of black pepper. Cook until the greens are mostly wilted and the onion looks translucent.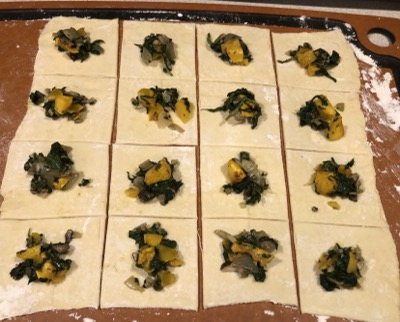 Remove the greens mixture from heat and transfer it to a large bowl to cool.
Return the cooled cooked pumpkin to a cutting board and chop it further, to about ½-inch pieces – it has to fit into mini turnovers, after all. Combine the pumpkin with the greens in the bowl.
The above steps can all be completed ahead of time. Refrigerate the filling if baking will happen several hours later.
When ready to bake, preheat the oven to 400 degrees. If you plan to bake all the turnovers at once, arrange the oven racks so the oven is divided into thirds.
Lightly flour a work surface and place one of the defrosted pastry sheets on it. (You might have to let it warm up a bit further.) Roll it out to a 12-by-12-inch square, then cut into 16 3-by-3-inch squares. Use a pizza cutter for this if you have one – much easier than a knife.
Note: Don't worry if the pastry isn't exactly 12-by-12, just make sure that you cut it into squares, not rectangles, so the turnover triangles won't be lopsided.
Place 1 generous teaspoon of filling in the center of each square, leaving a border of about ½ inch around the edges. Brush beaten egg on all edges of the square, fold it over into a triangle, and seal the edges with a fork. (Do this no more than three squares at a time, so the egg doesn't dry out.)
Place the pan in the refrigerator to chill while making the second pan of turnovers.
When the second pan is ready, stir ½ teaspoon of water into the remainder of the beaten egg, and brush some of it on the tops of all the mini turnovers.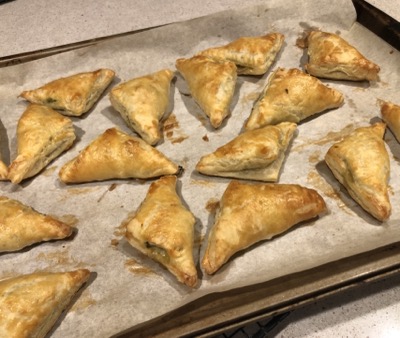 Bake for 15-20 minutes, switching the pans after 10 minutes, until the turnovers are golden brown.
Let the pans cool on racks for at least 5 minutes. Serve turnovers warm or at room temperature.
More pumpkin recipes from previous posts:
Roast pumpkin-pork stew with poblano peppers