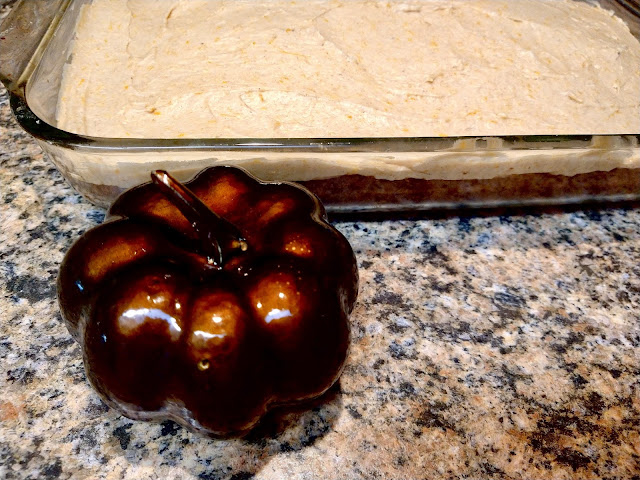 With fall comes the return of pumpkin spice lattes and a slew of other pumpkin spice-flavored treats. Add this one to that list: Pumpkin spice latte cake.
More specifically, it's pumpkin spice cake with pumpkin spice latte buttercream frosting. (There's no instant coffee in the cake itself, but plenty of spice.)
Unlike lattes, this recipe contains real pumpkin, cooked and mashed, in both the cake and the frosting. (Canned or frozen can be substituted for fresh. Other winter squashes such as butternut or acorn may be substituted for cooked pumpkin, too.)
Of course, it's the spice that makes it pumpkin spice. "Pumpkin pie spice" is a convenient blend of cinnamon, cloves, ginger, allspice and nutmeg. It's that combination of five spices (not just cinnamon and nutmeg) that gives pumpkin spice-anything that distinctive taste and scent.
Served plain or with a dusting of powdered sugar, this pumpkin spice cake makes a fine coffee cake or simple dessert on its own. Topped with pumpkin spice latte buttercream frosting -- the recipe follows the cake recipe -- it's worthy of special occasions and fall get-togethers. (Fingers crossed that there will be plenty in the months ahead).
Want to hold your cake in one hand (like a pumpkin spice latte)? This recipe can be converted into cupcakes, too.
Pumpkin spice cake
Makes 9-by-13-inch cake or 12 cupcakes
Serves 12
Ingredients:
2 cups all-purpose flour
1-1/2 teaspoons baking powder
½ teaspoon baking soda
2 teaspoons pumpkin pie spice
¼ cup (½ stick) butter, softened
¼ cup shortening
1-1/2 cups sugar
½ teaspoon vanilla
2 eggs
½ cup cooked pumpkin, mashed
½ cup sour cream
½ cup milk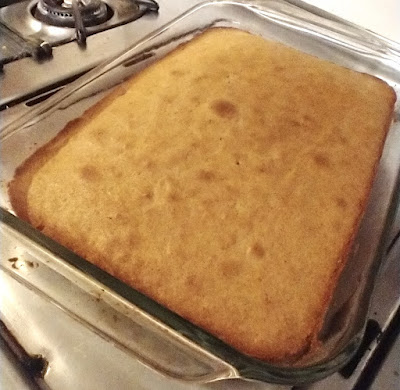 Instructions:
Grease a 9- by 13-inch baking pan or 12 cupcake tins (line if desired). Set aside.
Sift together flour, baking powder, soda and pumpkin pie spice. Set aside.
In a large bowl, cream together softened butter and shortening with an electric mixer on medium speed for 30 seconds. Add sugar, beat until well combined. Add vanilla, beat some more. Add one egg at a time, beating well with the mixer after each one. Add mashed pumpkin, beat until smooth.
In a large measuring cup, combine sour cream and milk.
Add dry and wet ingredients alternately to the mixing bowl, beating after each addition, until well blended and smooth.
Preheat oven to 350 degrees F.
Pour batter into prepared pan or cupcake tins.
Bake cake at 350 degrees for 35 to 40 minutes, or until top is golden brown and a toothpick inserted near the center comes out clean. Bake cupcakes for 15 to 20 minutes, or until they pass the toothpick test.
Remove from oven and let cool on a rack. Once cool, frost if desired.
May also be served warm, unfrosted, dusted with powdered sugar or served with whipped cream.
Pumpkin spice latte buttercream frosting
Makes enough to frost 9- by 13-inch cake or 12 cupcakes
Ingredients:
½ cup (1 stick) butter, softened to room temperature
¼ cup cooked pumpkin, mashed
4 cups powdered sugar
1 teaspoon vanilla
½ teaspoon pumpkin pie spice
½ teaspoon powdered instant coffee
2 tablespoons heavy cream
Instructions:
With an electric mixer, cream together butter and mashed pumpkin. Sift powdered sugar 1 cup at a time into mixing bowl, beating in each addition.
Add vanilla, pumpkin spice, instant coffee and cream. Beat until smooth, blended and desired consistency. If too thick, add a little more cream. If too thin, refrigerate; butter will quickly harden to spreadable consistency.