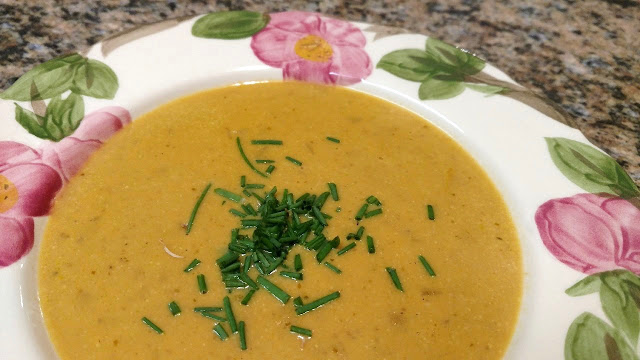 Creamy spiced pumpkin soup is as pretty as it tastes. (Photos: Debbie Arrington)
It's pumpkin spice season! This creamy pumpkin soup substitutes curry powder and turmeric for the usual cinnamon and cloves.

If you grow pumpkins, you likely have some mashed pumpkin pulp in the freezer. (Of course, canned pumpkin works in this recipe, too; this soup is a variation of a recipe popularized on the back of pumpkin cans more than 30 years ago.)

Got fresh pumpkin? Steam or zap pumpkin pieces in the microwave; scoop out the flesh with a spoon and mash.
Orange-fleshed winter squash such as butternut or acorn also work in this recipe.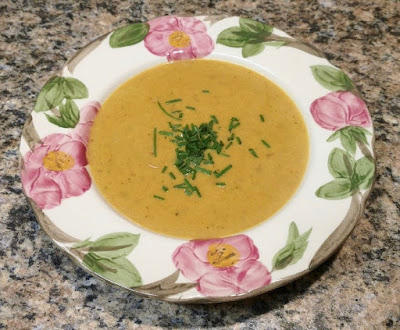 This spiced soup makes a great winter warmer -- or serve

it at your Thanksgiving meal.


Creamy spiced pumpkin soup
Makes 3 to 4 servings

Ingredients:
2 tablespoons butter or margarine
1/2 cup finely chopped onion
1/2 teaspoon garlic powder
1/2 teaspoon curry powder
1/4 teaspoon turmeric
2 big dashes crushed red pepper (or more to taste)
1-1/2 cups chicken or vegetable broth
1 cup mashed pumpkin
1/4 cup cream
1/4 cup milk
Salt and pepper to taste
Chopped chives (optional)

Instructions:
In a heavy saucepan over medium heat, melt butter. Sauté onions until soft and translucent.

Add garlic powder, curry powder, turmeric and crushed red pepper; stir and cook until well blended, about 1 minute. Add broth and bring to gentle boil. Adjust heat and let simmer 5 minutes.
Add pumpkin, cream and milk. Stir and bring to gentle boil again. Simmer for 5 minutes, stirring often.
Season to taste (depending on the broth, it may need nothing).

Serve hot, garnished with chives.

Note: For a vegan version, omit the cream and milk; use margarine and vegetable broth.