This vegetarian tortilla soup can be spiced from mild to hot and garnished to taste.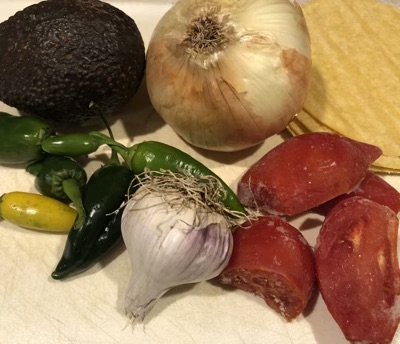 It's Jan. 1, and I'm just about done with elaborate, heavy food. But we still have a few months until spring, so I'm looking for dishes that are warming without being heavy.
Good news, tomato growers: I found the perfect recipe to use those frozen or preserved tomatoes that we labored over last summer. And what better time to use them: It's six months yet until the next crop comes in. (Big sigh here.) Yes, tomatoes can be frozen – I usually toss them into plastic bags, half or quartered depending on size. And the skins come off beautifully when they're defrosted.
I had a few mixed peppers that survived the pre-Christmas freeze, so I was able to use those, too. And some homegrown garlic, hooray!
I'd used up the most recent batch of homemade vegetable broth (recipe in link), so resorted to packaged low-sodium broth, which worked well. That's the general guidance with this recipe, which is adapted from The New York Times: Use fresh or homegrown or homemade where you can, but the soup will be just fine if you shortcut the broth, the (optional) beans or the tortilla chips. Toss in some shredded rotisserie chicken or cooked chorizo if you're not vegetarian and want to boost the protein.
Note: I have a large spice collection, so I blended several for the chili powder, but if you have a commercial blend you like, go ahead and use that. (For the record, I used smoked paprika, sweet paprika, cayenne, ground aji amarillo, ground New Mexican green chili and a dash of Penzey's medium-hot chili powder.) And those canned chipotles are crucial to flavor – they give the soup a delicious kick.
Spiced a little or lot, this soup will definitely warm you up.
Vegetarian tortilla soup
Serve 4 to 6
Ingredients: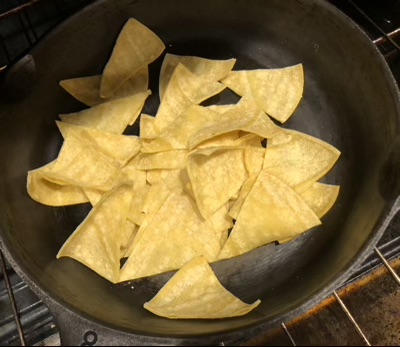 4 to 8 small corn tortillas, cut into triangles or strips (commercial chips are OK as an alternate but will be saltier)
2 tablespoons vegetable oil
1 yellow onion, chopped
4 garlic cloves, finely chopped
1 or more small to medium fresh chili pepper, such as jalapeño, seeds removed, minced
Salt and freshly ground black pepper
1-½ teaspoons or more chili powder or a mix of spices (see note above)
4 cups frozen or canned tomatoes, crushed (remove the skin if the tomatoes were frozen with it on)
2 chipotles in adobo, finely chopped
4 cups vegetable broth
One 15-ounce can of beans, such as black beans or white kidney beans, drained and rinsed (optional)
2 cups fresh or frozen corn kernels (thawing not required)
4 tablespoons chopped cilantro, divided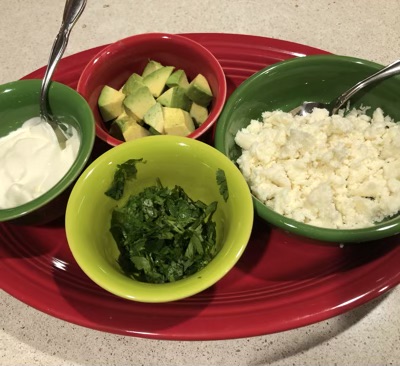 Garnishes:
3/4 cup crumbled queso fresco or grated cheddar cheese
3/4 cup crema, crème fraîche or sour cream
1 firm but ripe avocado, peeled, pitted and cubed
2 tablespoons of the cilantro that was chopped for the soup
About one-third of the tortilla strips or triangles
Instructions:
If making your own tortilla chips: Preheat the oven to 350 degrees. Place the tortilla triangles or strips randomly on an ungreased heavy baking sheet or cast-iron skillet. Bake until the tortilla pieces are crispy but not browned, turning frequently so they crisp evenly. Remove from oven and allow to cool.
Meanwhile, using a large soup pot or dutch oven, heat the oil over medium-high. Add the onion, garlic and minced peppers, plus a bit of salt and pepper. stirring until the onion is translucent, about 5 minutes.
Add the chili powder or spice blend and stir, cooking on medium for about 2 minutes, then stir in the chipotles, the tomatoes and any collected liquid from the tomatoes. Heat through before adding the broth, the beans (if using) and the corn.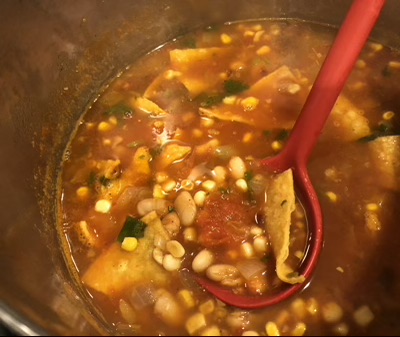 Let the soup simmer for at least 15 minutes, and stir in 2 tablespoons chopped cilantro. Correct the seasonings with salt and freshly ground black pepper.
Once the tortillas are ready, gently stir a little more than half the chips into the soup, allowing them a minute or 2 to soften in the broth.
To serve: Place a few more chips in individual bowls and ladle the soup over them. Pass the garnishes at the table, along with the remaining chips.