Homemade applesauce makes great muffins for an almost-fall breakfast or snack.
Fall is apple season, and my crop "dropped" early. All the heat pushed the fruit on my Granny Smith tree to ripen weeks earlier than usual. As temperatures soared in early September, apples started falling off the limbs – a month or more before my usual harvest time.
What to do with slightly bruised apples? Make applesauce. Cut off the damage and save the rest.
Regardless of the weather, I make applesauce every fall to preserve as much of my single tree's crop as possible. The real beauties, I save out for pies or tarts. But the rest goes into the applesauce pot.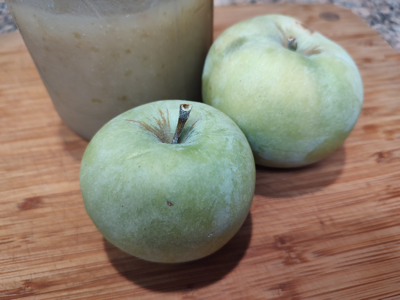 Making fresh applesauce is easy but takes patience and a good food mill. (The design has changed little over the generations; I use the same hand-cranked food mill that was used by my great-grandmother.) The food mill separates the skin and seeds from the pulp after cooking, and creates a smooth, thick applesauce.
This method works if you have just 3 pounds of apples – or enough apples to fill the whole pot.
To make applesauce, start with a large, heavy pot. Put 1 inch of water in the bottom of the pot. Wash and cut apples into quarters, discarding stems and any browned parts. Add apples to pot and bring water to boil. Cover and reduce heat to simmer. Cook apples until soft, stirring occasionally (the apples on the bottom will cook faster).
When apples are soft and mushy, transfer in batches to a food mill and process. To the apple pulp, add sugar to taste. (Depending on the tartness of the apples, usually about ½ to 1 cup per 4 cups of apple pulp.) That's it!
Store applesauce in the refrigerator or freeze. It also can be canned in a hot-water bath; process jars for 10 minutes in boiling water.
Now what to do with that fresh applesauce? Besides being a wonderful side dish, applesauce is a great ingredient in baked goods.
These applesauce muffins are rich and full of fresh apple goodness. They're great for breakfast or an anytime snack.
Applesauce muffins with pecans and coconut
Makes 12 muffins
Ingredients:
1-3/4 cups all-purpose flour
2 teaspoons baking powder
½ cup sugar
¼ teaspoon salt
1 teaspoon cinnamon
1/2 teaspoon nutmeg
¾ cup applesauce
1 egg, beaten
4 tablespoons (½ stick) butter or margarine, melted and cooled
½ cup pecans, finely chopped
1/3 cup coconut, shredded
2 tablespoon demerara or white granulated sugar
Instructions:
Preheat oven to 400 degrees F.
Prepare a muffin tin; either grease cups or line with paper or silicon liners.
In a large mixing bowl, sift together flour, baking powder, sugar, salt, cinnamon and nutmeg.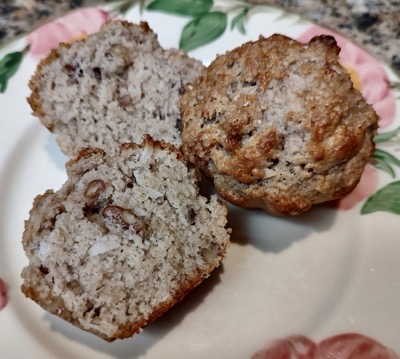 In a smaller bowl, combine applesauce, egg and melted butter.
With the back of a wooden spoon, make a well in the middle of the dry ingredients in the big bowl. Pour the applesauce mixture all at once into the well. Add pecans and coconut.
With the wooden spoon, stir together all ingredients until just combined. (Don't overwork; it makes muffins tough and creates holes.) Batter will be very thick and somewhat lumpy.
With two spoons, drop batter into prepared muffin cups, filling about 2/3 to ¾ full. Sprinkle demerara or granulated sugar over top of each muffin.
Bake muffins in 400-degree oven for 20 minutes or until golden brown. Let cool for 5 minutes in muffin tin before removing to rack or plate.
Serve warm or room temperature.
Looking for more apple recipes? Here are links to some of our past favorites: