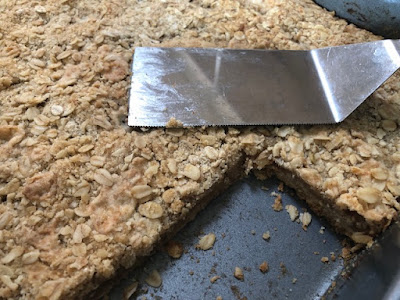 Apple filling between two crumbly, buttery layers --
it's a cookie, not a pie. (Photos: Kathy Morrison)
Yes, Thanksgiving is sneaking up on us. As part of the food festivities, I traditionally bake a big apple pie that is a lot of work and takes more than an hour to bake. But sometimes apple pie would be nice to have without quite so much effort, which is why this cookie recipe is great find. You could even serve it proudly at Thanksgiving -- it will travel well.
The cookie bakes just like a lot of other crumble-topped treats, but the filling is briefly cooked ahead of time. I've tweaked it somewhat so it tastes more like the big pie I make, so feel free to adjust the spices to your own taste.
I think just about any apple would work in this, with the exception of Golden Delicious, which turns into applesauce too quickly.  I like apples that are a little more tart than sweet. Use several varieties if you can't decide.
Three apples is good -- four would be even better.

These are two Mutsus and a Braeburn.

Apple pie oatmeal bars
Makes 18-24, depending on how big the bars are cut
Ingredients:
Filling:
3 to 4 sweet-tart apples, such as Mutsu, Pink Lady, Braeburn, or a mix
2 tablespoons unsalted butter
1/4 cup light brown sugar, packed
2 tablespoons all-purpose flour
Zest of 1 lemon
1 teaspoon ground cinnamon
1/4 teaspoon allspice
3 tablespoons water
1/4 teaspoon salt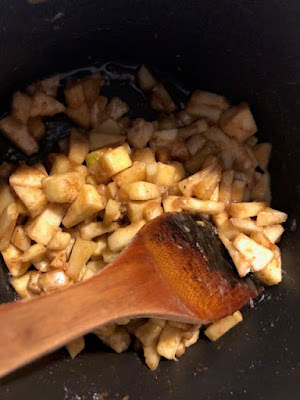 The apple filling is cooked briefly.
Cookie layer and topping:
1-1/2 cups all purpose flour
1-1/2 cups rolled oats (not instant or quick oats)
3/4 cup brown sugar, firmly packed
1 teaspoon baking powder
1/2 teaspoon salt
12 tablespoons (1-1/2 sticks) unsalted cold butter, cut into 1/2-inch pieces
Instructions :
Preheat the oven to 350 degrees. Grease a 13-by-9-inch baking pan with oil spray and set aside.
Peel, core and chop the apples to equal at least 3 cups and up to 4 cups apples. Combine the apples and the rest of the filling ingredients in a medium saucepan. Cook over medium heat, stirring, until apples are tender but not mushy and the filling is thickened, about 10 minutes. Add a little more water if it starts to get too thick. Remove from heat and let cool while the cookie layer is prepared.
Make the cookie layer: Stir together the flour, rolled oats, brown sugar, baking powder and salt in a large bowl.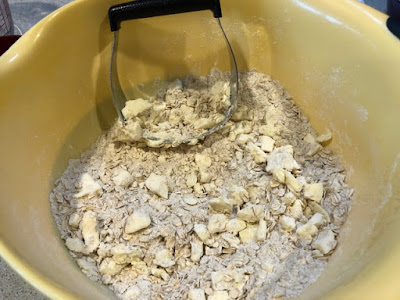 Work the butter into the flour-oats mixture until most of the
butter is incorporated.
Add the butter chunks and work them into the flour mixture using a pastry blender or two knives. The goal is a crumbly mixture with not too many large pieces of butter.
Remove 1-1/2 cups of the flour-butter mixture and set aside for the topping. (You could add 1/2 cup chopped nuts to the topping mix if you like nutty-crumbly combinations.)
Press the rest of the mixture into the prepared pan, using the bottom of a glass or a sturdy spatula to flatten and compress the mixture evenly.
Spread the apple filling mixture evenly over the cookie layer. Sprinkle the reserved flour-butter mixture over the top.
Bake the cookies for 40 minutes or until the top turns golden brown.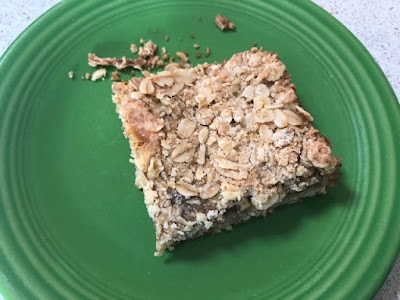 The cookie makes a great snack or breakfast bar.
Remove the pan to a cooling rack and let cool for 10 minutes before cutting into bars. Serve at room temperature. Store in a tightly covered container.