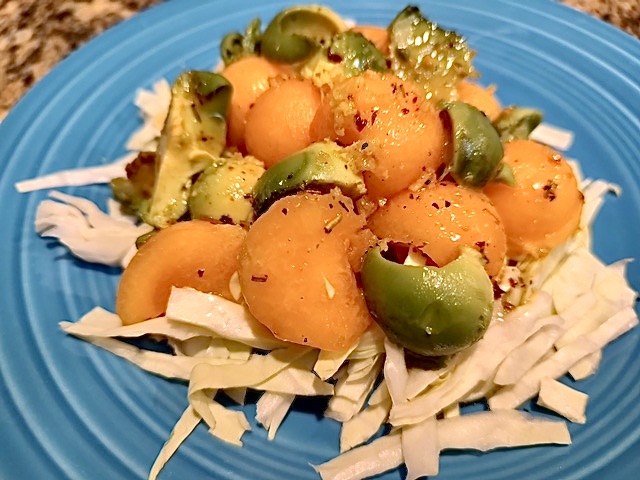 Contrasts in texture, color and taste make this melon-avocado salad a lively
dish. (Photo: Debbie Arrington)
This savory summer salad takes melon balls in a totally different direction.
When melon meets avocado, the contrast in color, texture and taste makes a delightful mix. Shredded cabbage adds a layer of crunch – and keeps the little balls from rolling off the plate. Zippy lemon vinaigrette pulls it all together.
It's fast, different and delicious.
Melon-avocado salad with lemon vinaigrette
Makes 2 large or 4 small servings
Ingredients:
2 cups cabbage, shredded
1/2 cantaloupe or muskmelon, seeded
1 large avocado, seed removed
Zest of 1/2 lemon
For dressing:
Juice of 1/2 lemon
3 tablespoons extra virgin olive oil
1/2 teaspoon ground red pepper flakes
1/2 teaspoon sugar
Salt and pepper to taste
Instructions:
Arrange shredded cabbage on serving plates. With a melon baller or soup spoon, scoop out balls of melon and arrange over cabbage. With a smaller scoop or spoon, scoop out balls of avocado and arrange on top of melon balls.
For dressing, combine lemon juice, olive oil, ground red pepper flakes, sugar, salt and pepper in a jar with a tight-fitting lid. Screw on the lid and shake until combined.
Drizzle dressing over salads. Top with lemon zest.
Serve immediately.