The chutney can be processed in a water bath

for longer storage, or refrigerated or frozen.

(Photos: Debbie Arrington)
Recipe: P.A.T. Chutney combines plums (or pluots), apricots and tomatoes
Summer brings a mixed bag of fruit as plums, apricots and pluots pile up in my refrigerator drawer. Meanwhile, tomatoes are taking over the counter space.
This easy chutney makes use of them all in a sweet-savory combination. I call it P.A.T. – plum-apricot-tomato – but pluots (which are a cross of plums and apricots) work, too.
No peeling necessary. Roughly chop the fruit and let it cook down slowly. The longer it simmers, the thicker it becomes.
P.A.T. Chutney
Makes 6 cups or half-pint jars
Ingredients:
4 tablespoons butter or margarine
2 cups onions, finely chopped
1 cup chicken or vegetable broth
¼ cup red wine
¼ cup fig balsamic vinegar
½ cup sugar
4 pounds plums, pluots and/or apricots, pitted and roughly chopped
1 pound tomatoes, hulled and roughly chopped
1 cup raisins
1 teaspoon lemon black pepper
1 teaspoon salt
1 teaspoon paprika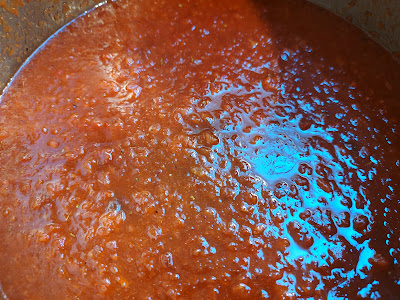 The chutney simmers, thickening slowly.





Instructions:
In a large, heavy pot, melt butter or margarine. Sauté chopped onions until soft.
Add broth, wine, balsamic vinegar and sugar. Bring to a boil.
Add fruit and tomatoes. Return to boil, then reduce to simmer and cover.
After tomatoes and fruit start to break down, remove cover and add raisins.
Simmer uncovered, stirring often, until chutney is desired thickness. For thick, jamlike consistency, simmer chutney at least 1 hour, stirring often to prevent scorching.
Add pepper, salt and paprika. Adjust seasoning.
Refrigerate or freeze in half-pint containers. This chutney will keep at least a month in a covered jar in the refrigerator.
Or process jars 10 minutes in a hot-water bath.