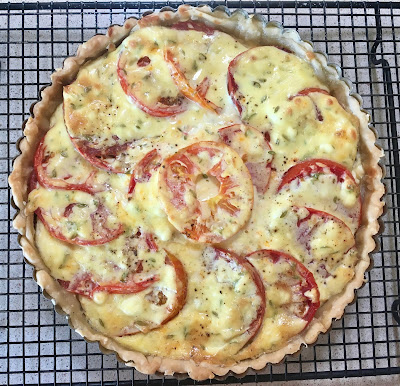 If your counters are covered with tomatoes, homegrown ones or a local farmer's, you're probably on the lookout for new recipes this time of year.
I recently ran across a good one from Martha Rose Shulman of the New York Times, a tomato and goat cheese tart that looked perfect for brunch. Plenty of herbs, and an intriguing mustard layer under the tomatoes -- those were great, but that yeasted pastry she used had to go. I don't do complicated crusts when it's meltingly hot outside.

Solution: Refrigerated rolled pie crust (Pillsbury being one option). These premade crusts usually are a little too salty to me for fruit pies, but they work fine for a savory dish.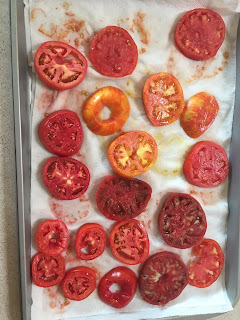 My other adaptation for this tart came from a technique in a Parade magazine recipe. You slice the tomatoes, then spread them on a baking sheet covered with paper towels, and lightly salt them. After about 30 minutes, the paper towels mostly soak up the watery parts of the tomatoes that can make a tart mushy.
The herb options here are many. I went for fresh thyme, a little more subtle than fresh basil for a brunch entree. (Believe me, I use plenty of basil in other dishes.) I think the tart is best served slightly warmer than room temperature, but you can refrigerate leftovers and enjoy them cold or reheated.
Easier tomato and goat cheese tart
Adapted from the New York Times
Serves 4-6
Ingredients:
½ package (1 roll) of a refrigerated pie crust, allowed to sit out at room temperature for 15 minutes
3 tablespoons Dijon mustard
4 or 5 ripe medium-to-large tomatoes (a mix of colors is nice)
Salt and freshly ground pepper
2 to 3 tablespoons of fresh herbs (chopped parsley, marjoram or basil, or a mix) OR 2 to 3 teaspoons fresh thyme or chopped rosemary
2 eggs
4 ounces plain goat cheese, crumbled
1 tablespoon extra virgin olive oil, plus more for oiling pan
Instructions:
Preheat the oven to 350 degrees. Oil a 9- or 10-inch tart pan and line it with the unrolled crust. (Trim the dough if necessary.) Put the tart pan in the refrigerator to chill while you prepare the tart filling.
Cover a large rimmed baking pan with several layers of paper towels. Slice the tomatoes about ¼-inch thick and place the slices in a single layer on the paper towels. Sprinkle lightly with salt. Let stand 30 minutes, turning tomatoes over about halfway through. Pat tomatoes dry, removing any large clumps of seeds (optional).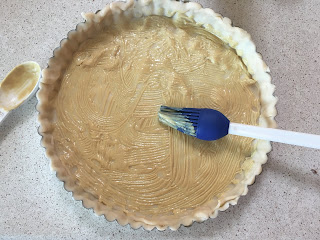 Remove tart pan from the refrigerator. Brush the mustard over the bottom of the crust. Arrange the tomato slices over the mustard in concentric circles, overlapping them slightly. Sprinkle with salt, pepper, and the herbs you chose.
In a small bowl, beat together the eggs and goat cheese. Season with salt and pepper and pour over the tomatoes. Drizzle on the 1 tablespoon olive oil.
Place tart in the oven and bake 30 to 40 minutes, until the top is nicely browned and filling is set. Remove from oven and allow to cool for 10 minutes before serving. Serve hot, warm or at room temperature.