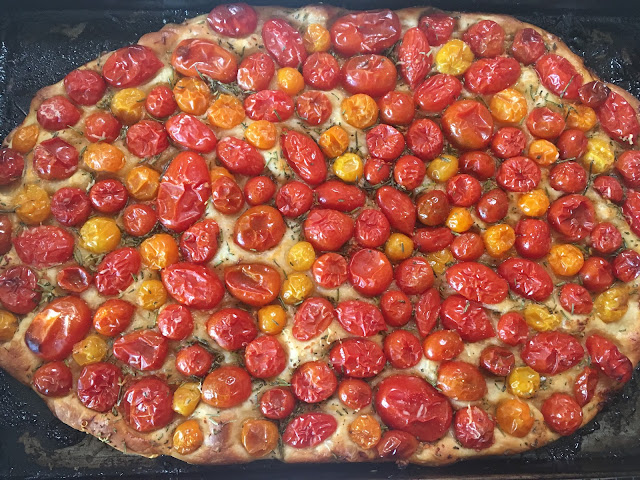 Pizza dough baked with cherry tomatoes and herbs is a delicious late-summer appetizer. (Photos: Kathy Morrison)
Recipe: Make cherry tomato focaccia with pizza dough
Cherry tomatoes usually are the rugged survivors of the summer vegetable-growing efforts, even when the rest of the plants have given up the ghost.
If like me you still have plenty of little tomatoes, you might want to make this herby focaccia. It uses pizza dough as the base, but don't worry, there's no messing around with yeast here. A 1-pound bag of premade dough is easy to find these days in the deli sections of supermarkets as well as at specialty food stores. The recipe works with whole wheat dough just as well as regular wheat; I haven't baked it with other varieties, but if you're on a gluten-free diet, give this a try with your favorite alternative.
The type of cherry tomato doesn't matter, although the focaccia looks great with several colors and shapes. This recipe works even with grocery store cherry tomatoes, so grab a pint basket of them if you're out of your own — something to try in the dead of winter when our 2018 gardens are mere memories. Use chopped fresh basil or thyme to taste if you're not a fan of rosemary.
Serve this as a party appetizer, an accompaniment to soup or salad, or alongside a plate of pasta.
Cherry tomato focaccia
Serves 8-12 as an appetizer
Adapted from a Whole Foods recipe and other sources
Ingredients
:
3 tablespoons extra-virgin olive oil, divided, plus more to grease the pan
1 pound prepared pizza dough, removed from wrapping and left out of the refrigerator at least 15 minutes to warm and soften
2 cups cherry tomatoes, halved
1/2 teaspoon coarse sea salt
1 tablespoon finely chopped fresh rosemary
1 tablespoon grated Parmesan
Instructions:
Preheat the oven to 400 degrees. Lightly grease a large, heavy baking pan (such as a 10-by-15-inch jelly roll pan). Pour 2 tablespoons olive oil into the center of the pan. Place softened dough into the pan and, using your hands, gently flatten the dough. Flip dough over so both sides are coated with oil.
Work the oil into the dough gently and stretch the dough out as far as you can across the pan until it wants to snap back. Let the dough rest 5 or so additional minutes at room temperature, then stretch it again until it fills (or almost fills) the pan.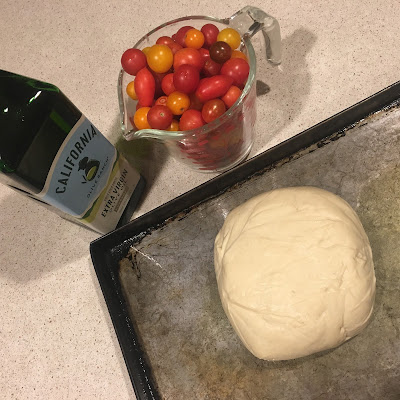 The main ingredients are olive oil, cherry tomatoes and pizza dough.
Press the tomato halves cut-side down into the dough. Brush the last 1 tablespoon of oil on the dough, particularly along the edges. Sprinkle with salt, rosemary and Parmesan cheese.
Bake until the top is very brown and the tomatoes collapse, 25-30 minutes. Cool bread in the pan 5 minutes, then remove and place onto a large cutting board. Cut into desired serving sizes (a pizza cutter works well.)
Serve warm or at room temperature. Store in an airtight container for up to 1 day.