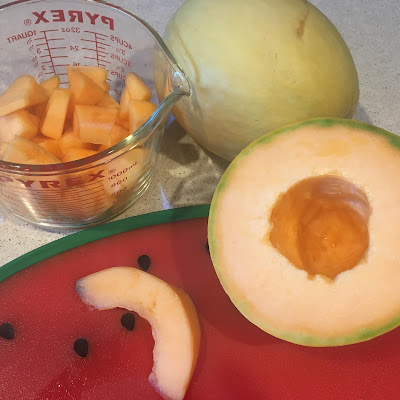 Papaya Dew melon was the base for this recipe, but any muskmelon
will work. (Photos: Kathy Morrison)
Recipe: Melon dish spans end of summer, start of fall
Late September is a great time of year for farm-fresh produce, but it's also a confusing one. Should I make one more fresh peach cobbler before the stone fruit disappears, or jump into fall with a pear galette? Plums or apples? Berries or figs?
We're right at the end of local melon season now, so there's still time to make this fragrant and delicious melon gazpacho recipe I ran across years ago in the Los Angeles Times food section.
I typically make it with cantaloupe or other fresh muskmelon that either I grow or find at the farmers market. This year I tried a new melon in my garden, the Papaya Dew hybrid. It looks like a honeydew in skin color, but it's smaller and more football-shaped, weighing it at about 3 pounds. The flesh inside is the color of apricots, firm but juicy. And when the aroma of the first melon I picked perfumed my whole kitchen, I was hooked. The last four of them ripened at the same time earlier this month, so I knew it was time to bring out the gazpacho recipe.
This gazpacho is a wonderful first course before a summer meal, but with the days growing shorter, I think it works best as a brunch offering. Present it in chilled bowls or shot glasses, depending on how many other dishes you're serving. It'll get the meal off to a sweet (but not too sweet) start.
Melon gazpacho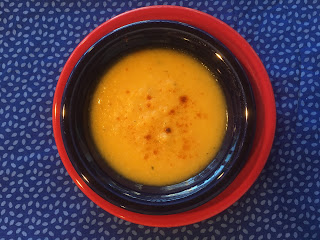 Serves 6 as a first course
Adapted from a Los Angeles Times recipe originating with chef Todd Aarons
Ingredients:
2 cups cubed French bread or sourdough, all crusts removed (cubes should be 1 inch or smaller)
¼ cup plus 3 tablespoons white wine vinegar (or champagne vinegar or sherry vinegar)
5 cups peeled, seeded and cubed melon, ripe but not too ripe (equal to about one 3-pound melon)
¼ cup plus 1 tablespoon diced red onion
¼ cup plus 1 tablespoon extra virgin olive oil
3 dried bay leaves, pulverized nearly to powder (with a mortar and pestle or spice grinder)
Sea salt
½ cup ice cubes, or as needed
Smoked paprika or more extra-virgin olive oil, for garnish, optional
Instructions:
Place the bread cubes in a bowl and pour the vinegar over; allow to soak while you're preparing the other ingredients.
Using a blender or food processor, puree the melon cubes with the red onion. Add the soaked bread and the vinegar to the blender and puree until smooth.
With the motor running, add the olive oil slowly, then the ground-up bay leaves. Adjust the seasoning to taste with salt.
If the soup seems too thick, add some of the ice cubes and puree until the desired consistency is reached. (Note: The gazpacho will thicken when refrigerated before serving.) Adjust seasoning again with vinegar and/or salt.
Transfer the gazpacho to a large nonreactive container (I use an 8-cup Pyrex measuring cup) and chill before serving.
Serve gazpacho with a sprinkle of smoked paprika for garnish or, if desired, a thin swirl of extra-virgin olive oil.