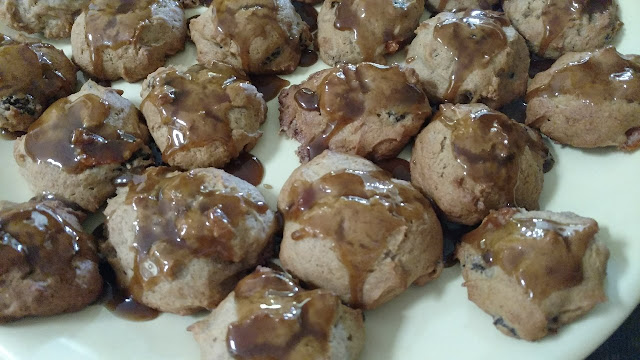 Glazed persimmon cookies can be made with either Hachiya or Fuyu persimmons. (Photos: Debbie Arrington)
Recipe: Old-fashion persimmon cookies like great-grandma used to make
Persimmon season brings cookie time to our household.

For generations, my family has made these simple old-fashioned persimmon cookies every November, usually relying on Great-Grandmother's tried-and-true recipe.

Originally, these cakelike confections were made with native American persimmons, which grow wild throughout the South and Midwest. For the last century, we've baked them with milder Japanese varieties, found throughout California.
Either the pointy Hachiya or the flat Fuyu will work. The key is to wait until the persimmon is fully ripe, its pulp totally soft and mushy. When ready, the fruit feels like a sack full of jelly. It takes naturally crisp Fuyu persimmons longer to reach full mushy ripeness, but they will get there.

Can't wait? Put the persimmons in the freezer. Once it's solid, remove the fruit and let it thaw. The pulp will be completely soft.

This year, our Fuyu persimmon tree is covered with fruit, at least 80 to 100 pounds. Two persimmons produces 1 cup pulp, which is enough for a batch of four dozen cookies.
It looks like I'll be making a lot of persimmon cookies this month. Great-Grandmother would be proud.
Great-Grandmother's persimmon cookies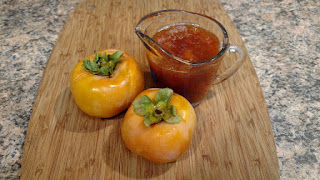 Two persimmons make about 1 cup pulp, enough for four
Makes about 4 dozen
1 cup very ripe persimmon pulp
1 teaspoon baking soda
1 cup raisins
3/4 cup honey
1/2 cup shortening
1 egg
2 cups flour
1/2 teaspoon cinnamon
1/2 teaspoon ground cloves
1/2 teaspoon grated nutmeg
1/2 teaspoon salt
2 teaspoons baking powder
Preheat oven to 350 degrees F.
Peel and mash persimmon pulp. Dissolve baking soda in pulp. Set aside. Rinse raisins with boiling water. Set aside.

In a large bowl, cream together honey and shortening. Beat in egg, then fold in persimmon pulp and raisins.

Sift together flour, spices, salt and baking powder. Add flour mixture to persimmon mixture. Stir until well blended.

Drop batter by teaspoons in scoops the size of a walnut onto greased cookie sheet. Bake at 350 degrees for about 15 minutes or until golden. Cookies will still have cakelike spring when done.