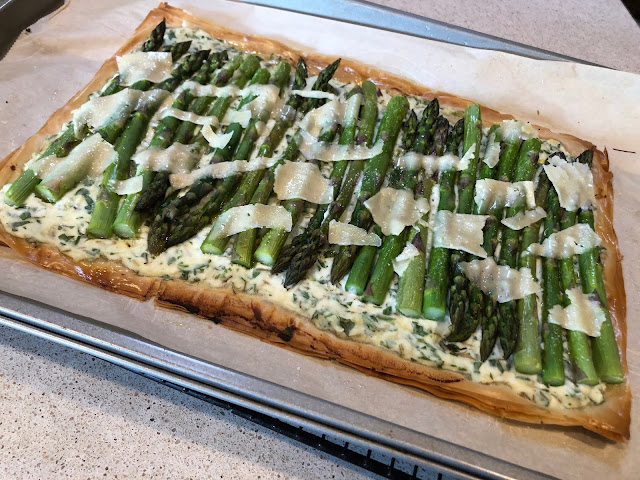 With fresh asparagus and herbed ricotta, this tart is a preview of spring. (Photos: Kathy Morrison)

I know, I know -- it's a little early for local asparagus. But those green spears already are showing up in supermarkets, and I am more than ready after too many months of winter squash and spinach. Artichokes are coming in, too, but asparagus is more versatile, not to mention so much easier to prepare.

My homeland is the Central Valley: I grew up in Stockton, aka California's Asparagus Capital for many, many years. The planting acreage in the state has dropped considerably, and Delta asparagus is harder to find these days, but it's not completely gone.
The San Joaquin Asparagus Festival came along after I had moved away, and it nearly died a few years ago, but Stockton still is identified with this lovely early-spring vegetable. So consider this a nod to a Central Valley tradition, and keep a sharp eye out for local asparagus to show up at farmers markets. This recipe works especially well for brunch on Easter. The supply should be plentiful by then.

A few notes: I prefer fat asparagus (which comes from younger plants, did you know?) because it grills so well, but this recipe works better with the skinnier spears, medium to pencil-thin. If you buy it ahead, treat the spears gently. I find that fitting the whole bunch into a wide drinking glass half-filled with water, then putting it in the refrigerator, helps keep the spears from drying out.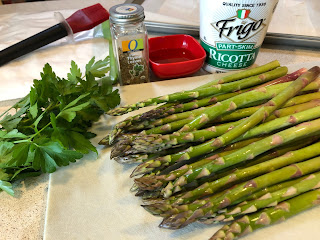 Not many ingredients in this tart, but great flavor.
There is one ingredient here from my garden: the fresh flat-leaf (Italian) parsley. I finally have enough to use in recipes. Plant a sixpack and you'll have plenty, even if one plant bolts early. But now I have to work on thyme; I really need more, and who doesn't? (Sorry, gardener pun).

This tart uses phyllo dough as a base. Phyllo can seem scary, with all those layers, but it's easier to work with if it's properly thawed. Put the frozen sheets in the refrigerator overnight, and they'll be ready when you need them. And don't worry if the sheets rip when you're working with them. Just keep layering them up, and no one will know or care when the tart is baked.

Herbed ricotta, asparagus and phyllo tart
Adapted slightly from Cooking Light
Serves 8

Ingredients :

3/4 cup part-skim ricotta cheese
1/4 cup chopped fresh flat-leaf parsley
1 1/2 tablespoons low-fat milk
1 tablespoon fresh thyme leaves, or 1 teaspoon dried
1 garlic clove, minced
1/2 teaspoon kosher salt, divided
12 frozen phyllo sheets (14-by-9-inch), thawed
3 1/2 tablespoons olive oil, divided
1 bunch medium asparagus spears, 1 to 1-1/2 pounds
1 ounce Parmesan cheese, shaved (about 1/4 cup)

Instructions: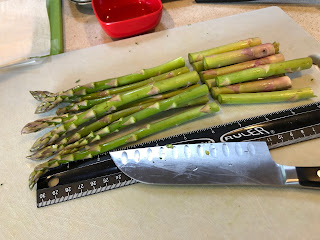 A kitchen ruler helps when trimming the asparagus,
but it doesn't have to be exact.
Preheat oven to 400 degrees F. Stir together the ricotta, parsley, milk, thyme, garlic and 3/8 teaspoon salt.

Place 1 phyllo sheet on a baking sheet lined with parchment paper. (Cover remaining dough to keep it from drying out.) Lightly brush phyllo sheet with oil, and top with another phyllo sheet. Repeat layers with remaining phyllo sheets and oil, reserving 1 teaspoon oil to brush on asparagus.

Trim asparagus to 6 1/2 inches long (save the cut ends for stir fry). Spread ricotta mixture on the phyllo stack, leaving a 1/2-inch border. Arrange asparagus spears side by side over ricotta mixture. Brush asparagus with remaining 1 teaspoon oil.

Bake until phyllo is browned and crisp, 18 to 22 minutes. Sprinkle with remaining 1/8 teaspoon salt and top with the shaved Parmesan.