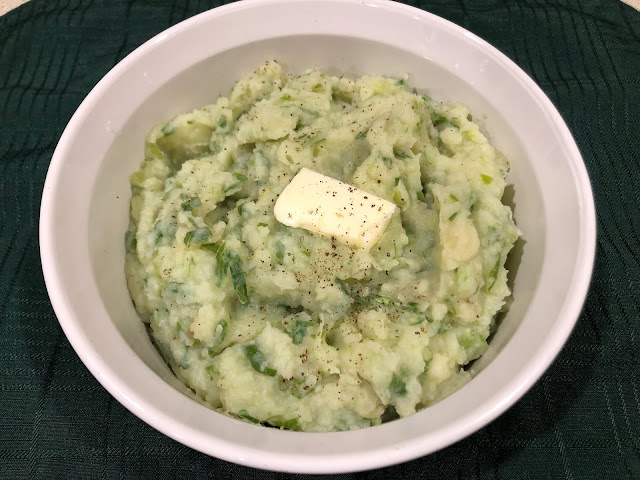 Here's an authentic Irish (and green) dish: potato champ. (Photos: Kathy Morrison)


St. Patrick's Day in the U.S. is basically a celebration of all things green. If you'd like to serve something more authentically Irish than green beer, potato champ is the ideal recipe.

Champ is mashed potatoes with green onions in it, but the cooking method makes this a dish that's even better than the ingredients list sounds. The chopped onions, including tops, are steeped in hot milk, which turns the milk and then the mashed potatoes a lovely light green. This is a good way to use those thinned-out onions from your garden, and not just on St. Patrick's Day.

I slightly adapted this recipe, which is from "Irish Traditional Cooking" by Darina Allen, via the Epicurious website. It also can be make with other garden ingredients: parsley, chives or fresh green peas.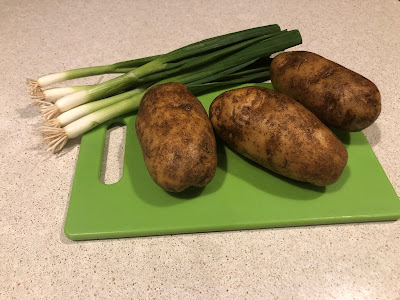 Potatoes and green onions: An easy and delicious pairing.
Potato champ
Serves 4

Ingredients:

3 large russet potatoes, about 1 ½ pounds
¾ cup milk (or ¼ cup milk per ½ pound of potatoes)
1 bunch green onions
2 to 4 tablespoons butter
Salt and freshly ground black pepper

Instructions:

Peel the potatoes and cut them into quarters. Place in a pot with enough cold water to cover them, and boil until tender.

While the potatoes are cooking, finely chop the green onions, including the green tops. Place them in a small saucepan and add the cold milk. Bring the milk to a boil, simmer for 3 to 4 minutes, then turn off the heat and let the onions steep in the milk.

When the potatoes are cooked, drain them, then return them to the empty pot. Mash them a bit and, while they're still hot, pour in the milk and green onion mixture. Mash a bit more, adding in about half the butter, but don't let them get gluey.

Season to taste with salt and freshly ground pepper. Serve in a warmed bowl with the rest of the butter in a pat on the top.

Variations: Substitute 2 to 3 tablespoons of freshly chopped parsley or chives to the milk, boiling for only 2 to 3 minutes. For peas, shell them, then cook them in the milk with just a pinch of sugar, until tender. Proceed as above.