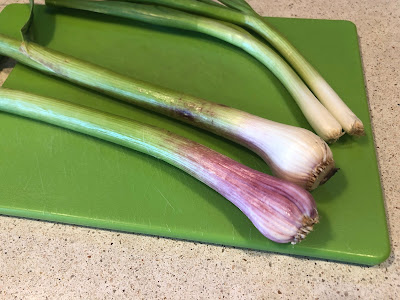 Green garlic stalks, foreground, look similar to scallions, in back, and can be
used in similar ways.  (Photos: Kathy Morrison)
Recipe: Pasta with green garlic and baby spinach
Spring brings so many wonderful vegetables into the farmers markets, but some of them have a short season, so I try to enjoy them while I can.
One of those is green garlic, which is simply garlic harvested before the cloves have fully formed and while the tops are still green. In the market, the stalks look like overachieving scallions, maybe with a slightly more bulbous end, depending on when it was harvested. The stalks can be chopped or minced to be used like scallions, too, but with a creamier garlic flavor. As a bonus, the papery skin hasn't formed on the cloves yet, so there's no peeling required.
The recipe here makes use of that lovely garlic flavor -- much milder than an equivalent amount of regular garlic would be. (You might not be able to scare off any vampires with it, however.) It is very loosely based on a New York Times dish, one of several pasta recipes they've printed that celebrate spring vegetables. There's not a tomato in any of them -- all very green.
This cooks quickly, so it's best to have all the ingredients chopped and ready before you start.
A note about anchovy paste: It's made from fish, sure, but won't add a fishy taste to the pasta. It mellows the other ingredients and lends the dish umami, the savory "fifth flavor" that chefs love. To make this dish vegetarian, substitute 4 dried porcini mushrooms, plumped with a couple tablespoons hot water, and then minced. You might need to add a little extra salt, too.
Pasta with green garlic and baby spinach
Serves 4
Ingredients:
Kosher salt
8 ounces thin spaghetti or linguine
2 tablespoons olive oil, divided
2 teaspoons anchovy paste, or 4 anchovy fillets, finely chopped
2 large or 3 smaller stalks green garlic, trimmed and chopped, including most of the green part
2 scallions, chopped
2 tablespoons flat parsley, chopped
1/4 teaspoon crushed red pepper flakes, or to taste
2 to 3 tablespoons half and half, heavy cream or vegetable broth
5 ounces baby spinach leaves, about 7 cups
Juice of 1/2 lemon
Ground black pepper, to taste
1/4 cup grated Parmesan cheese, or to taste, optional
Instructions:
Bring 4 quarts of water to boil in a large pot. Add 1/2 teaspoon of salt, then the pasta, stir, and cook until almost al dente. Reserve 1/2 cup cooking water, then drain the pasta briefly, and return it to the cooking pot off the heat.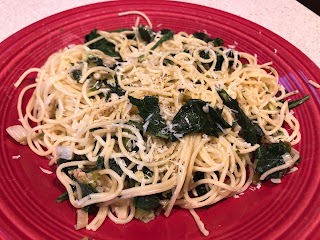 Spring flavors blend in this easy pasta dish.
While the pasta is cooking, heat 1 tablespoon olive oil in a large sauté pan. Stir the anchovy paste into the warm oil, then add the garlic, scallions, parsley and red pepper flakes. Cook over medium-high heat for no more than 3 minutes. Add the remaining olive oil. Turn down the heat to medium and gently stir in the half and half, cream or broth. Add some of the cooking water if the mixture is still pretty thick -- the consistency should be closer to sauce than paste.
Pile the spinach leaves on top of the mixture in the pan, then squeeze the lemon juice over the leaves, and grind some black pepper over it all. Stir until the spinach is wilted, 1 to 2 minutes.
Add the cooked pasta to the pan, stirring, for about 1 minute. Sprinkle Parmesan over all, if using, and some more ground pepper. Serve immediately.