A soup as green as the region's rain-nourished hills is this week's recipe celebrating seasonal produce.
I found the recipe in Anna Thomas' wonderful "Love Soup" cookbook, which is entirely vegetarian. In a nod to the festival going on this weekend in Stockton, this soup includes asparagus, but also leeks, baby spinach and fresh mint. No cream, no butter.
The original recipe also calls for baby zucchini, but that's a summer vegetable, and I grow (and cook) so much of it during the summer I refuse to buy it out of season. I substituted frozen baby peas because I didn't have time to hunt down fresh peas, but those certainly are an option. I still had some green garlic, so that went into the soup, too. Thomas encourages variations.
The soup came out a little thinner than I expected, so I advise adding the vegetable broth just 1 cup at a time, rather than all at once, and checking the thickness with each addition.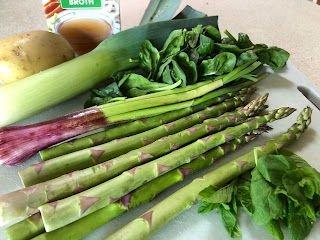 A note on vegetable broth: Ideally, use your own homemade broth. (I covered how to make that here.) But that's not always possible, so commercial broth will work, too. But note that the available brands vary widely in ingredients and (especially) sodium content. Read the labels: Broth without tomatoes or tomato paste will work better in this recipe.
Top the soup with a drizzle of olive oil and some croutons or wonton strips — or crème fraîche, if dairy is OK with you. It will make a lovely first course for any spring brunch or dinner; it also can be served chilled, as an appetizer.
Spring green soup
Serves 6

Ingredients:
1 large leek, trimmed to white and light green parts and thinly sliced, plus one of the following additions: 1 stalk green garlic, 2-3 scallions or a second leek, also sliced
2 tablespoons olive oil
1 ½ teaspoons sea salt, plus more to taste
1 large or 2 small Yukon Gold potatoes, about 8 ounces total
½ pound asparagus, about 8 stalks
8 ounces fresh or frozen baby peas (2 cups) or 2 small zucchini
7 to 8 cups baby spinach leaves (equal to one 5-ounce bag)
1 tablespoon chopped fresh spearmint leaves or chopped fresh chives
Up to 3 cups vegetable broth (see note above)
2 to 3 tablespoons fresh lemon juice
Cayenne pepper
For garnish:
Fruity green olive oil
Optional garnishes:
Crunchy toppings such as croutons or wonton strips
Freshly ground black pepper
Crème fraîche or crumbled goat cheese
Instructions:
Measure the sliced leek(s) and green garlic or scallions: You should have 2-1/2 cups total.
In a large nonstick skillet, heat the olive oil and cook the sliced vegetables with 1/2 teaspoon of salt over medium heat until they are soft and tender, 8 to 10 minutes, stirring occasionally. Set aside.
While those veggies are cooking, scrub and dice the potato, then put the pieces in a soup pot with 4 cups cold water and 1 teaspoon of salt. Simmer the potato pieces, covered, for about 10 minutes.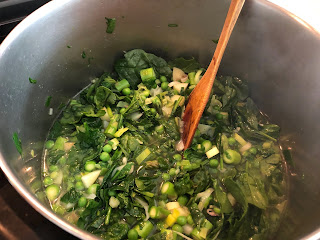 Trim just the ends (including any white part) off the asparagus and then slice the stalks into 1/2-inch pieces. Rinse the peas (they don't have to be defrosted) or trim and slice the zucchini.
Roughly chop the spinach. Add the asparagus, peas or zucchini, spinach and the leek mixture to the pot with the potatoes.
Simmer the soup for about 15 minutes. Add the mint or chives during the last few minutes of cooking.
Remove the soup from the heat and add 1 cup of the vegetable broth. Allow the soup to cool briefly, then puree it using an immersion blender or in batches in a regular blender.
Put all the soup back in the pot and stir in 1 tablespoon fresh lemon juice and a pinch of cayenne pepper. If necessary, add more vegetable broth until the soup seems the right thickness. Taste the soup and correct the seasonings, using more lemon juice, salt or cayenne as desired.
Serve the soup warm, with a drizzle of fruity olive oil and any of the other garnishes as desired, or chill for 1 to 4 hours and serve with just a grind of black pepper and a squeeze of fresh lemon juice.