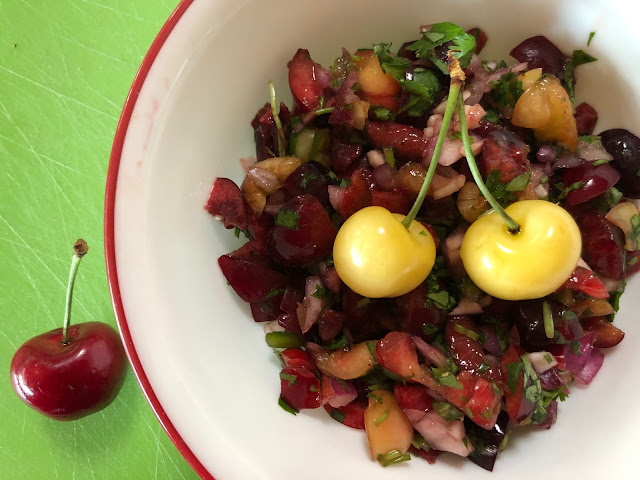 Cherry salsa is delicious on grilled chicken or pork as well as with tortilla chips. Try it with chips that have a hint of lime. (Photos: Kathy Morrison)
Recipe: This salsa is great for summer meals and parties
The Northern California cherry farmers were looking at a bumper crop this year, but Mother Nature had other ideas. The mid-May storms ruined 50 percent of the cherry crop just as it was ripening, according to the California Fresh Fruit Association.
However, because the season was running late this year, growers with June-ripening cherries should be in good shape, the CFFA says.
All the more reason to enjoy the cherries out there now and in the next few weeks. The Brooks and Rainier varieties give way to Bings, my personal favorite, but they all work well in this salsa recipe.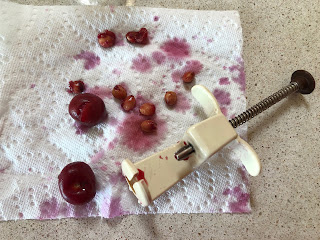 Yes, pitting cherries is messy. I like my little plunger pitter.
Fruit salsas go so well with grilled meat in the summer, but some of the salsas get too gloppy. This cherry salsa is bright and tasty, and you can give it a little more kick if you want. Set out a bowl of it with some hint-of-lime tortilla chips and watch it disappear. I've adapted this recipe from one I made several years ago for the Sacramento Bee's Food section.
Note: Pitting cherries can be a chore. I use latex gloves (to prevent finger stains) and a nifty little cherry pitter that works like a plunger. But cherries also can be pitted with just a paring knife.
Cherry salsa
Makes 2 cups
Ingredients:
2 cups fresh sweet cherries, any variety or a mix, de-stemmed and pitted
Zest and juice of 1 lime
1/4 cup chopped red onion
1/2 cup chopped fresh cilantro
1 jalapeño pepper, seeds removed (keep them if you like more kick in your salsa), minced
1 fresh garlic clove, minced
Salt and freshly ground pepper
Instructions
:
Halve the pitted cherries and then chop them. Place in a bowl, then stir in the lime zest and lime juice. Add the red onion, cilantro, minced jalapeño and garlic clove. Add salt and pepper to taste.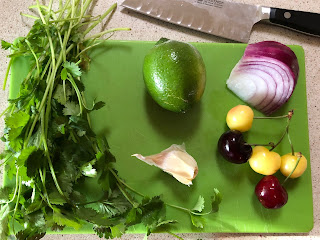 Fresh ingredients make a fresh salsa. The jalapeño missed
the picture, but not the final product.
Cover the bowl and let the salsa chill in the refrigerator 45 minutes for the flavors to meld. When ready to serve, taste and adjust seasonings. Serve over grilled chicken breasts or grilled pork tenderloin, or with tortilla chips.
Variations
: This salsa also is delicious with any of these mix-ins:  1 chopped ripe but firm avocado;  1 chopped white nectarine; 1 chopped ripe mango.