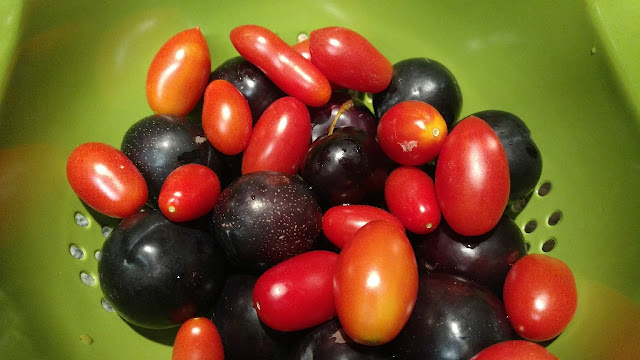 Dark sweet plums and ripe plum tomatoes (these are Juliets) combine in a summery chutney. (Photos: Debbie Arrington)

Recipe: Plum-plum tomato chutney like a chunky ketchup
An overload of Juliet tomatoes and a big basket of purple plums inspired this recipe.
After I made several batches of plum jam and tomato sauce, it was time to move on to something that combines the sweet with the savory: Chutney.
This version is nothing like commercial, vaguely Indian chutneys. My tomato-based chutney tastes more like an upscale chunky ketchup with a pleasant balance of sweet and tart. It's a tasty relish on burgers, hot dogs or sandwiches as well as an accompaniment to pork chops or tenderloin. It works with French fries, too.
Meatier in texture, plum tomatoes cook down faster than their round counterparts, so I like to use them in chutneys, which thicken on the stove. (And it makes for a fun recipe name.)
This recipe can scale up or down, depending on how many tomatoes and plums you have sitting on the counter.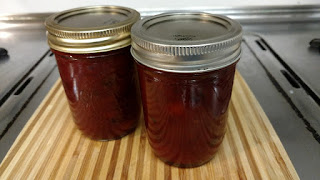 The chutney can be stored in the refrigerator or processed
Plum-plum tomato chutney
Makes 4 cups
Ingredients:
1 ½ pounds plum tomatoes
1 ½ pounds dark plums
1 cup onion, finely chopped
2 tablespoons butter
½ cup chicken or vegetable broth
2 tablespoons red wine
2 tablespoons balsamic vinegar
1 teaspoon ginger
½ cup raisins
¼ cup sugar or to taste
Salt and pepper to taste
Instructions:
Wash and roughly chop tomatoes. Pit and finely chop plums. Set aside.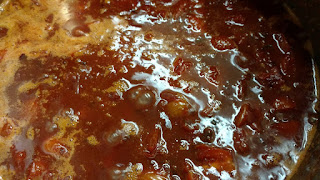 The chutney simmers for 20 minutes to an hour or more.
In a large heavy pot or Dutch oven, melt butter. Sauté chopped onion until translucent.
Add tomatoes. Sprinkle with salt. Stir and sauté for 5 minutes or until tomatoes begin to soften.
Rinse raisins with boiling water.
Add broth, red wine, vinegar, ginger and raisins to the tomato mixture. Bring to a boil. Reduce heat to simmer, uncovered.
Add chopped plums, including any accumulated juices. Adjust heat to keep mixture bubbling but not a full boil, stirring often.
Add sugar, adjusting the amount to the sweetness of the plums.
Let mixture cook down to desired consistency, stirring often to prevent sticking. This can take 20 minutes to an hour or more, depending on how juicy the tomatoes and plums are. Be patient and keep stirring every few minutes.
When chutney is almost done, add salt and pepper to taste.
Store in the refrigerator or process in jars. This chutney also freezes well.
To process in jars: Process 10 minutes in a boiling water bath. Makes 4 half-pints.