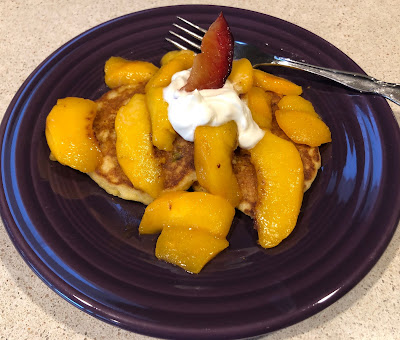 Corn cakes are topped with sautéed peaches, sour cream and a pluot slice.
(Photos: Kathy Morrison)
Recipe: Easy corn cakes delicious any time of day
Had enough fresh corn yet? The season is a long one, yet I'm still draw to those big piles of green ears at the markets or stores.
But think beyond the cob: Uncooked corn kernels are wonderful for adding crunch and a touch of sweetness to dishes.
This recipe for savory corn cakes comes from my favorite Mollie Katzen cookbook, "Vegetable Heaven." It makes a quick little griddle cake that works for any time of day, depending on how you want to dress it up. Cilantro and sour cream, sure. Salsa or guacamole, naturally. Fruit syrup, now you're talking. You could even cook them as silver-dollar-size cakes, top them with roasted cherry tomatoes and serve them as appetizers.
My adaptation was to replace the bell pepper with minced shishito pepper. (I'm growing shishitos for the first time this year.) It brought tiny pops of heat to the corn cakes, which then played even better with a range of accompaniments. I love fruit and corn together, and the dead-ripe peaches I had on the counter made a great topping, after a quick sauté. A dab of sour cream and a slice of pluot for garnish finished  off the dish.
You could leave out the peppers entirely, but I wouldn't recommend it — they bring some character to all that corny crunch.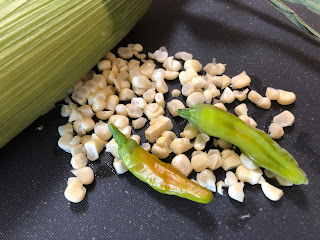 Fresh corn pairs well with shishito peppers.
Savory
corn
cakes
Makes about a dozen 4-inch cakes
Ingredients
:
2 teaspoons butter or vegetable oil
2 finely minced shishito peppers, stems and seeds removed, or 1/4 cup diced bell pepper
2 cups fresh corn, cut off the cob (2 ears)
4 minced scallions
1/2 cup cornmeal
1/2 cup all-purpose flour
1 teaspoon baking powder
1/2 teaspoon baking soda
1/2 teaspoon salt
2 large eggs
1 cup buttermilk or sour milk
Butter or oil for pan
Optional topping:
3 or 4 large peaches, peeled and sliced
Butter for sautéing
1/2 teaspoon lemon juice
1 tablespoon honey or agave syrup
Sour cream
1 sliced and pitted pluot
Instructions
:
Heat 2 teaspoons butter or oil in a small skillet. Sauté the pepper and corn kernels a few minutes, until heated but not soft. Remove from heat and stir in the scallions. Set aside.
In a large bowl combine the cornmeal, flour, baking powder, soda and salt. Make a well in the center.
Beat together the eggs and buttermilk until frothy. Pour the liquid and the corn mixture into the well of the flour mixture. Stir just until thoroughly combined; don't overmix it.
Lightly grease a griddle or large skillet with butter or oil. Pour batter in for the size cakes you want; don't overcrowd the pan. Cook for 2 minutes on each side, or until golden. Top as desired.
(Keep cakes on an ovenproof dish in a slightly warm oven if you're making a lot or trying to work ahead. Be sure they don't dry out, however.)
For optional peach topping; Melt butter or oil in a skillet over medium heat. Add peach slices and gently stir. Sprinkle in lemon juice and add honey or agave. Continue sautéing until the peaches are gently warm. Top corn cakes on plates with peaches, a generous blob of sour cream and a slice of pluot.