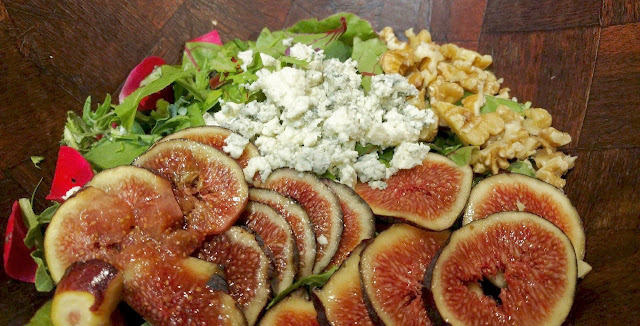 Fresh figs and walnuts, plus blue cheese and greens, will be tossed for the salad. Rose petals, hiding upper left,
will add a colorful touch. (Photos: Debbie Arrington)
Recipe: Fig-walnut salad has unexpected ingredient

--

rose petals
Crunchy, salty, chewy, sweet; this salad has a tasty mix of flavorful opposites plus one surprise.
Figs and walnuts, which are now coming into season, contrast with baby arugula, chard, kale and other cool-weather greens. Crumbled blue cheese gives the salad some extra tang.
This combination was inspired by a simply classic fig-arugula-feta salad served at Mulvaney's B&L. The fresh walnuts provide some extra crunch.
For extra color, I added some fresh rose petals. (Yes, roses are edible, but only if you don't spray or use systemic pesticides. Rinse petals well but gently to avoid bruising.)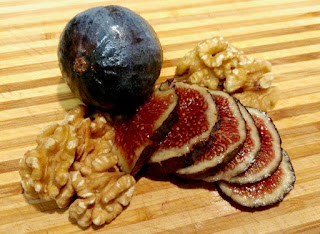 Figs and walnuts are in season now.
Many different baby greens work well in this salad. When thinning chard or kale (leafy greens generally cooked before serving), save those little discards for fresh salads. They add texture as well as flavor to fall salads.
Fig and walnut salad
Serves 2

Ingredients:

4 fresh figs

¼ cup walnuts, chopped

¼ cup blue cheese, crumbled

2 cups fresh mixed baby greens (arugula, chard, kale, etc.)

¼ cup rose petals (optional)

Vinaigrette:

2 tablespoons red wine vinegar

2 tablespoons extra virgin olive oil

¼ teaspoon sugar

Salt and pepper to taste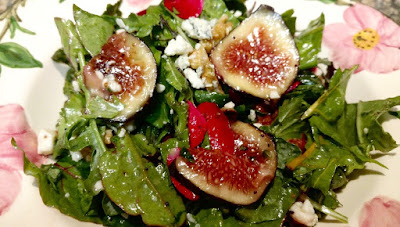 A lovely salad to herald fall.
Instructions:
Wash figs. (Peeling is optional.) Slice thinly.
In a large bowl, combine greens, rose petals, figs, chopped walnuts and blue cheese.
In a jar, combine all ingredients for vinaigrette. Cover and shake well.
Drizzle dressing over salad ingredients. Toss lightly. Serve immediately.