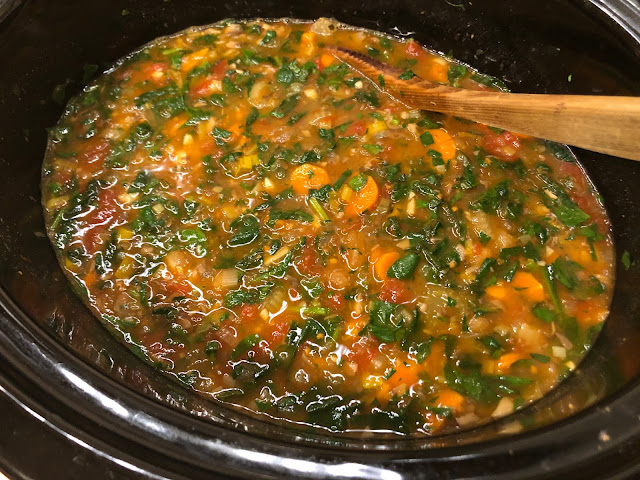 With the spinach stirred in, the ribollita is just about ready to serve at this point. (Photos: Kathy Morrison)


Recipe: Healthy comfort food makes the most of harvest basics
Onions, carrots, tomatoes and garlic: How basic can you get? But it's all in how they work together that makes ribollita, a delicious Italian vegetable bean soup that's perfect for fall.
Ribollita is Tuscany's version of minestrone. The name comes from the Italian for "reboiled." In other words,  leftovers. Like many soups, it's even better the next day. It also freezes beautifully. I usually simmer it in my slow cooker, which is about as carefree as anything that starts with fresh vegetables. And this is my note to myself across the top of the recipe: "Double this because you'll wish you had."
I adapted this recipe from "The Slow Cook Book" by Heather Whinney (DK, 2011) and love its versatility. The vegetable combination can be tailored to personal taste. The four vegetables mentioned in my first paragraph are the only musts for this -- you'll see that there are a lot of possibilities beyond those. And don't skimp on the black pepper -- this recipe really takes to it.
This soup makes a great vegetarian supper or lunch. If you use vegetable broth instead of chicken and skip the Parmesan, it's vegan. The toasted bread adds an important texture to the soup as served, so use a gluten-free bread if you're a GF cook.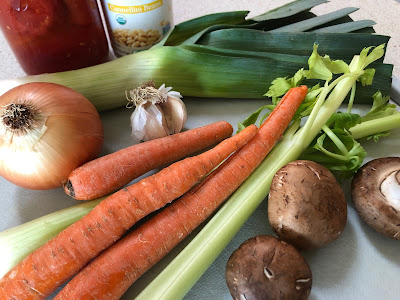 Lots of fresh vegetables in this soup. The garlic and tomatoes
Ribollita
Serves 4 to 6
Ingredients
:
2 tablespoons olive oil, plus more for drizzling
1 onion, chopped
2 or 3 carrots, peeled and sliced
1 leek, trimmed and sliced
2 celery stalks, trimmed and sliced (optional)
5 to 6 brown (cremini) mushrooms, chopped (optional)
Salt and freshly ground black pepper
2 garlic cloves, crushed and chopped
One 14-ounce can crushed tomatoes or 1 quart home-canned tomatoes, chopped
1 tablespoon tomato paste
1/2 teaspoon or more crushed dried oregano
3 cups hot chicken or vegetable stock
One or two 14-ounce cans cannellini beans, drained and rinsed
At least 4 and up to 8 cups baby spinach leaves, shredded (one 5-ounce bag equals 8 cups)
1/4 chopped fresh Italian parsley, optional
One or two slices per serving of artisan bread such as ciabatta, pugliese or sourdough
Grated Parmesan cheese, for serving
Other vegetables that can substitute: Use 2 shallots for the leek; 1 or 2 zucchini, trimmed and sliced, instead of the celery; chard or mixed greens for the spinach.
Instructions:
Heat the 2 tablespoons oil in a large deep saucepan over low heat. Add the onion, carrots, leek, celery and (if using) the celery and mushrooms. Cook for 10 minutes until softened but not colored. Season with salt and pepper, and stir in the garlic; cook for 1 minutes. Add the tomatoes, tomato paste, oregano and stock, and bring to a boil.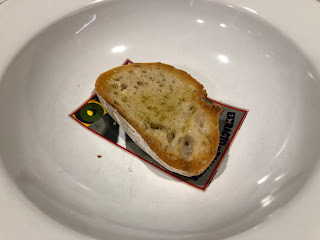 The toasted bread gets a drizzle of olive oil before the soup
If using a slow cooker: Transfer everything to the slow cooker and adjust the seasoning. Mash half the beans with a fork, then stir them into the soup along with the remaining whole beans. Cover with the lid and cook on High for 3 to 4 hours or Low for 5 to 6 hours. When there's about 20 minutes of cooking time remaining, check the seasoning again and then stir in the spinach. Stir in the parsley, if using, just before serving.
Toast the bread until golden brown. Place one or two pieces in serving bowls (it will depend on how big the slices and the bowls are). Drizzle the toast with a bit of olive oil, and then ladle the soup over the toast. Garnish with Parmesan and another drizzle of olive oil.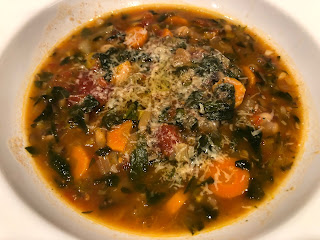 Parmesan is the final touch before serving.
To cook on the stove: Keep the soup in the original pot. Follow the above directions up to the point of adding the beans. Then lower the heat, stir in only the mashed beans, and continue cooking for 30 minutes. Add the remaining beans and the spinach (after testing the seasoning) and continue simmering for another 30 minutes.
Leftover soup, as mentioned, can be augmented and "recooked," or frozen without the bread for up to 3 months.