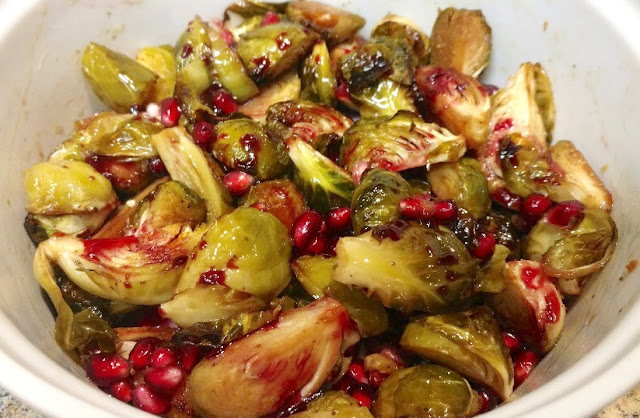 Pomegranate arils brighten a dish of roasted Brussels sprouts -- perfect for a holiday dinner. (Photos: Debbie Arrington)
Recipe: Ruby roasted Brussels sprouts topped with pomegranate molasses

This side dish was made for the holidays; the fresh pomegranate arils among the roasted Brussels sprouts look like little glistening rubies. The red and green combo is sure to be a conversation starter.

Most of our Brussels sprouts this time of year come from somewhere other than Sacramento, where this vegetable is notoriously hard to grow. As a cool season vegetable, the sprouts are common in stores and farmers market.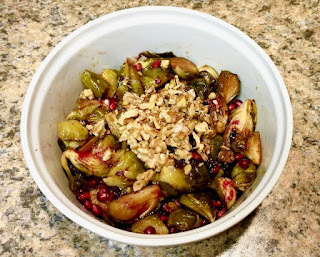 Here the dish is garnished with walnuts, which are optional.
Pomegranates are at their peak availability -- especially if you have a tree. Since I made the
pomegranate molasses
last month, I've been watching for new ways to use it. This combination of sprouts, pomegranate and walnuts was suggested by a
recent recipe
in the New York Times.

This method is different from the Times' whole-roasted sheet-pan directions. This recipe also uses more pomegranate plus balsamic vinegar. The fruit's distinctive sweet-tart flavor contrasts nicely with the sprouts' nuttiness. (The Times added walnuts for extra crunch.)
The deep red pomegranate molasses adds more zing and color; a little makes a big impact.
Ruby roasted Brussels sprouts
Adapted from the New York Times
Makes 4 servings

Ingredients: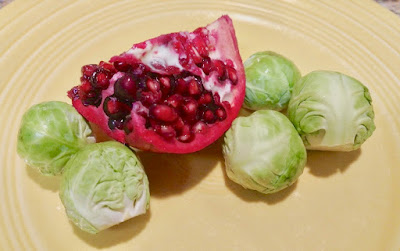 Pomegranate and Brussels sprouts: Who knew?
1 pound Brussels sprouts, washed, trimmed and quartered
2 tablespoons olive oil
1 tablespoon balsamic vinegar, preferably pomegranate
Salt and pepper to taste
Arils (seed pods) from one-half pomegranate, about 1/3 cup
1 tablespoon pomegranate molasses
1/4 cup chopped walnuts (optional)

Instructions:
Preheat oven to 350 degrees F.
Place Brussels sprouts in a 9-inch square baking dish. Drizzle sprouts with olive oil and balsamic vinegar, toss to coat. Salt and pepper to taste, then toss again.

Roast sprouts in 350-degree oven for 40 minutes (30 minutes if quarters are small), turning once or twice.
Meanwhile, seed the half pomegranate; set aside the arils.
When the sprouts are fork tender, remove from oven. Add pomegranate arils, toss gently. Drizzle pomegranate molasses over top. Sprinkle chopped walnuts on top, if desired. Serve warm.