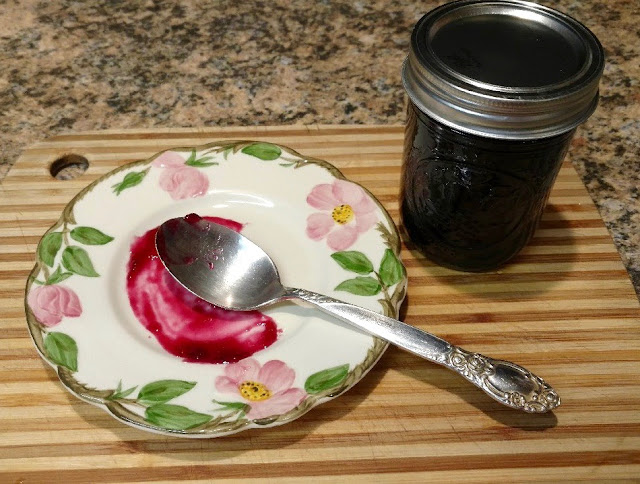 Dark in the jar, pomegranate jelly is bright red on the plate (or cookie). (Photo: Debbie Arrington)
Recipe: Tangy condiment just the right red
Pomegranate jelly looks as cheery as the holiday season -- a brilliant ruby red. It's just the right color for Valentine's Day sweets as well as Christmas cookies.
Using fresh juice, pomegranate jelly can be a tangy and pretty filler for thumbprint cookies or petite pastries. Delicious on toast or English muffins, it makes a flavorful glaze on pork or chicken, too.
It takes eight to 10 medium to large pomegranates to produce 4 cups juice. This recipe can be scaled down, but not up.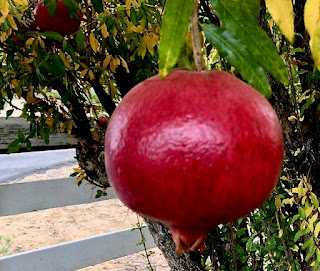 You'll need eight to 10 of these beauties to produce enough
juice for pomegranate jelly. (Photo: Kathy Morrison)
The little dab of butter cuts down on the foam (and hence the waste). This recipe is adapted from Elise Bauer's excellent
Simply Recipes
version.
Pomegranate jelly
Makes 6 to 8 half-pints
Adapted from Simply Recipes

Ingredients :
4 cups pomegranate juice
¼ cup lemon juice
½ teaspoon butter
6 tablespoons powdered pectin (1 package Sure-Jell)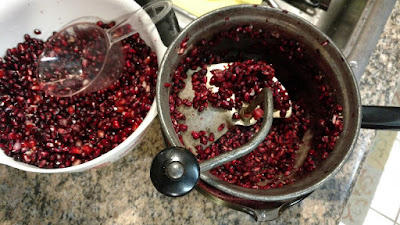 A food mill can be used to juice the arils. (Photo: Debbie Arrington)
5 cups sugar
Instructions:

Strain pomegranate and lemon juices to remove any seed or white membranes.

In a large heavy pot, combine pomegranate and lemon juices with powdered pectin and butter. Bring to a full rolling boil.

Add sugar all at once. Return to boil. Boil for 2 minutes, remove from heat and let sit for 1 minute.

Skim off any foam. Ladle hot mixture into hot sterilized jars, leaving about 1/4-inch head space. Wipe rims, screw on lids and process filled jars in hot water bath for 5 minutes.