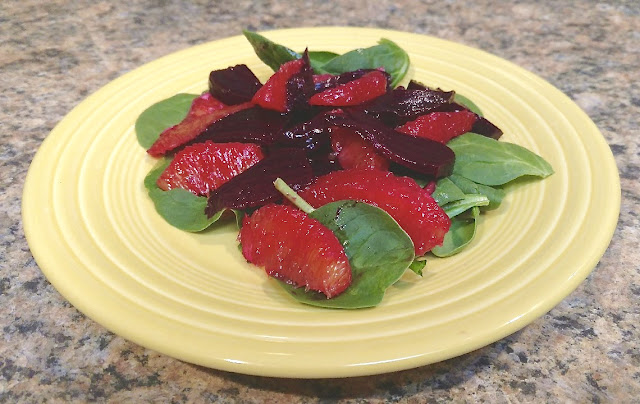 Cara Cara oranges and roasted beets combine in a colorful, healthy spring salad. (Photos: Debbie Arrington)
Recipe: Roasted beet and citrus salad is healthy comfort food
Beets are good for what ails you.
I got that advice often from my grandmother, who swore by beets as a universal tonic. (Borscht, anyone?)
Beets are packed with vitamins and antioxidants, making them a healthy comfort food. This early spring salad makes the most of their naturally sweet flavor, brought out by roasting.
Wedges of roasted beet are lightly tossed with citrus supremes (sections trimmed of any membrane) and a citrus vinaigrette. For this version, I used Cara Cara oranges, which have a pink hue to their sweet flesh. Red grapefruit or navel oranges work well, too.
The beets and citrus top a bed of baby spinach; baby arugula, lettuce or other greens may be substituted, also.
A word of warning: Beets turn everything pink. That includes your hands, clothes and cutting surfaces. Wear gloves and an apron while handling these vegetables.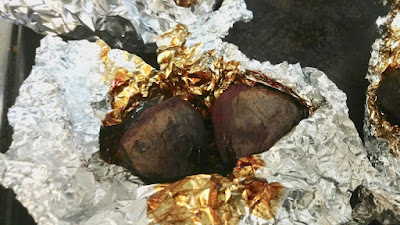 After roasting, the beets should be cooled and peeled.
Easy roasted beets: Wash beets well, scrubbing off any dirt. Trim off tops, leaving about a half inch attached to the beet. (Save the greens; they're great slow-cooked.) Trim off tap root.
Preheat oven to 375 degrees F. Wrap beets in foil individually or, if small, in pairs. Place wrapped beets on a rimmed cookie sheet and put in oven. Roast for 45 to 60 minutes, or until beets are easily pierced with a skewer or thin blade.
Remove from oven and let cool slightly. Peel beets; the skins will slip right off.
Another tip: To avoid getting pink beet stains everywhere, hold the beet with a paper towel and rub the skin off with a corner of the paper towel.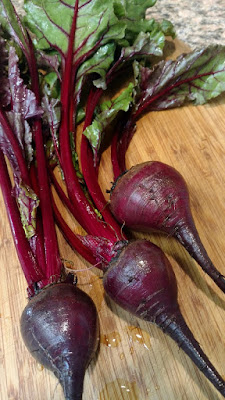 Beets are two vegetables in one: Save the
Roasted beets and citrus salad
Makes 4 servings
Ingredients:
1 pound beets (about 4)
2 Cara Cara oranges or 1 red grapefruit, cut into sections or supremes
4 cups baby spinach or salad greens
Vinaigrette:
¼ cup orange or grapefruit juice
1 tablespoon balsamic vinegar
1/3 cup extra virgin olive oil
1 teaspoon sugar
1 dash Tabasco
Salt and pepper to taste
Instructions:
Roast beets, as directed above. (This can be done the night before.) After beets are peeled, chill until ready to assemble salad.
Cut beets into wedges. Place beets in bowl with citrus sections or supremes.
Make vinaigrette. In a jar, put all ingredients. Cover jar and shake until blended.
Add vinaigrette to beets and citrus; lightly toss.
Put spinach or greens on salad plates. Top with beet-citrus mixture.
Serve immediately.