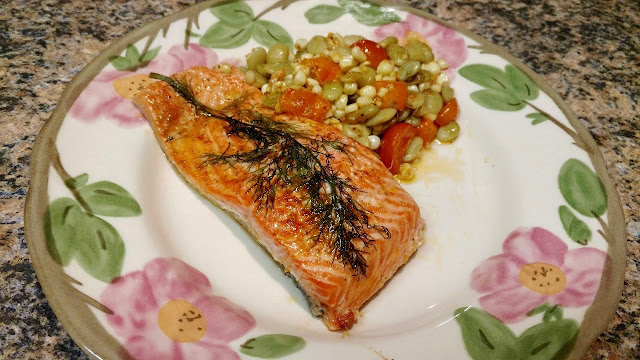 Steelhead and succotash is the perfect one-pan fall dinner. (Photos: Debbie Arrington)

"Indian summer" usually comes later in October, one last heat wave before our weather turns cool.
But if these first warm days of autumn are any indicator, we could be in for one long Indian summer right into winter.
Succotash is the perfect Indian summer dish, combing late fresh corn with freshly harvested shell beans.
"Succotash" comes from the Narragansett word "msickquatash," described as a "simmering pot of corn to which other ingredients were added."
Sometime in the 1700s, colonists settled on a combination of corn and shell beans, preferably limas.
This version makes succotash part of a one-pan meal, roasting the corn and beans alongside steelhead trout fillets – another early fall favorite.
This succotash also can be made without the fish; roast it in the oven for the same 30 minutes. Or substitute close-cousin salmon for the steelhead.
Roasted steelhead and succotash
Makes 2 to 3 servings
Ingredients:
For the succotash:
1 cup fresh lima beans, shelled
1 cup fresh corn kernels
1 cup cherry tomatoes, halved or quartered
2 tablespoons extra virgin olive oil
Salt and pepper to taste
For the fish:
2 tablespoons butter
1 pound steelhead fillets
1 to 2 limes
1/2 teaspoon Old Bay or similar seasoning mix
Two sprigs of fresh dill or 1 teaspoon dried dill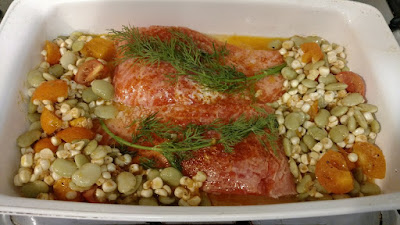 The fillets and vegetables are ready to roast.



Instructions:
In a heavy saucepan, bring 4 cups of salted water to a boil. Add lima beans. Cover and reduce heat to simmer. Cook until beans are fork tender, about 15 minutes. Drain.
In a large bowl, mix together cooked limas, fresh corn kernels and cherry tomatoes. Drizzle with olive oil and toss lightly. Season to taste with salt and pepper.
Preheat oven to 375 degrees F.
In a large (8- by 12-inch or 9- by 13-inch) baking dish, put butter. Place in oven to melt (about 2 minutes).
Rinse and pat dry fish fillets. Carefully remove baking dish from oven and swirl melted butter around so it covers the bottom of the dish. Add fillets to pan, turning to cover both sides with melted butter, then arrange skin side down.
Cut and squeeze 1 lime over the fish fillets. Sprinkle liberally with Old Bay or similar fish seasoning. Top with fresh dill or sprinkle with dried dill.
Spoon the succotash around the fillets. Put baking dish in 375-degree oven and roast for 30 minutes, or until fish flakes easily.
Serve immediately with lime wedges.