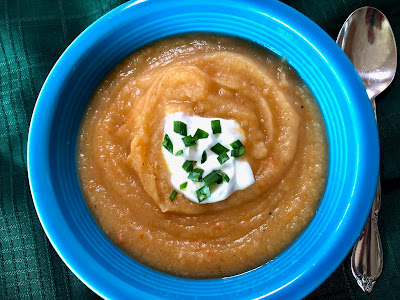 Winter vegetable soup is topped with a dollop of
sour cream and a sprinkling of chopped chives.
(Photos: Kathy Morrison)
When life gives you turnips, you learn to cook them.
I did not grow up eating turnips. I had never planted them. Yet here I was with an impressive haul of turnips, thanks to my change of address at my community garden.
The previous gardener had moved, and I switched to her plot, inheriting her raised beds, irrigation system — and turnips. The little green sprouts I couldn't quite identify in November had grown into beautiful root vegetables. I had to harvest them before it was too late, and then had to find some way to use them.
This delicious and unbelievably easy recipe, a spin on classic potato-leek soup by the New York Times' Martha Rose Shulman, took care of some of the turnips, cooking them with potatoes, leeks and carrots. It's a lovely chowder-like soup, perfect for the last days of winter. No oil, butter or sautéing involved.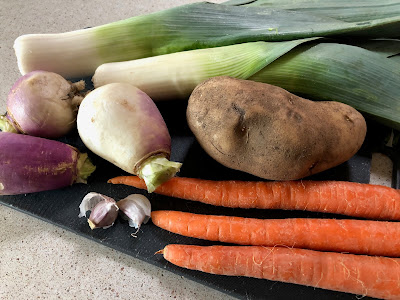 The three turnips here weigh 10 ounces total, per the recipe.
The bouquet garni is basically a bundle of herbs that traditionally are tied together to flavor a sauce or soup. Kitchen twine usually works, but the bay leaf might be a problem there. (You can always add the bay leaf separately and fish it out before blending the soup.) Little net bags designed for pickling also work for bouquet garni. I have a funny silicone container for herbs that I acquired somewhere along the way -- see the photo. The herbs are just stuffed inside and it's then dropped into the soup; I retrieve it after simmering.
Do garnish the finished soup with a bit of sour cream or crème fraîche, or a vegan alternative, plus chives or scallions. The sour cream adds a nice little bite to a soup that's as comforting as a warm sweater.
Winter Vegetable Soup With Turnips, Carrots, Potatoes and Leeks
Serves 6
Ingredients:
3 large leeks, white parts only, cleaned and sliced 1/2-inch thick
2 garlic cloves, crushed and minced
3 large carrots, peeled and diced
1 celery stalk, diced
2 or 3 turnips,  about 10 ounces total, peeled and diced
2 or 3 russet potatoes, about 1 pound total, peeled and diced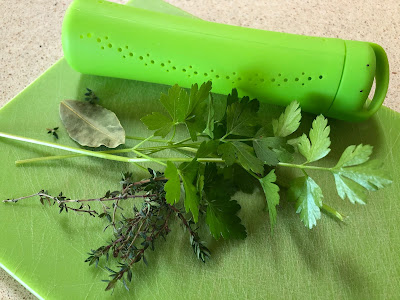 This silicone container, with holes for liquid to pass through,
works for bouquet garni or pickling spices.
A bouquet garni (herb bundle) made with a few sprigs each thyme and parsley, plus a bay leaf
Salt and freshly ground black pepper
For garnish:
Sour cream or crème fraîche
Chopped fresh chives, scallions or parsley
Instructions:
Put 1-1/2 quarts (6 cups) of water in a large soup pot or Dutch oven. Add the leeks, garlic, carrots, celery, turnips, potatoes and 2 to 3 teaspoons salt, plus pepper to taste.
Bring the mixture to a boil, then reduce the heat, cover and simmer 45 minutes, until vegetables are very soft.
Remove the bouquet garni. Blend the soup to desired smoothness using an immersion blender (the easiest option) or puree it using a standing blender or a food mill. (You might have to let it cool a bit before using either of the latter options.) Return the soup to the pot if using the blender or food mill.
Heat through and adjust the seasonings to taste. Serve in warm bowls, garnished as desired from the suggestions above.